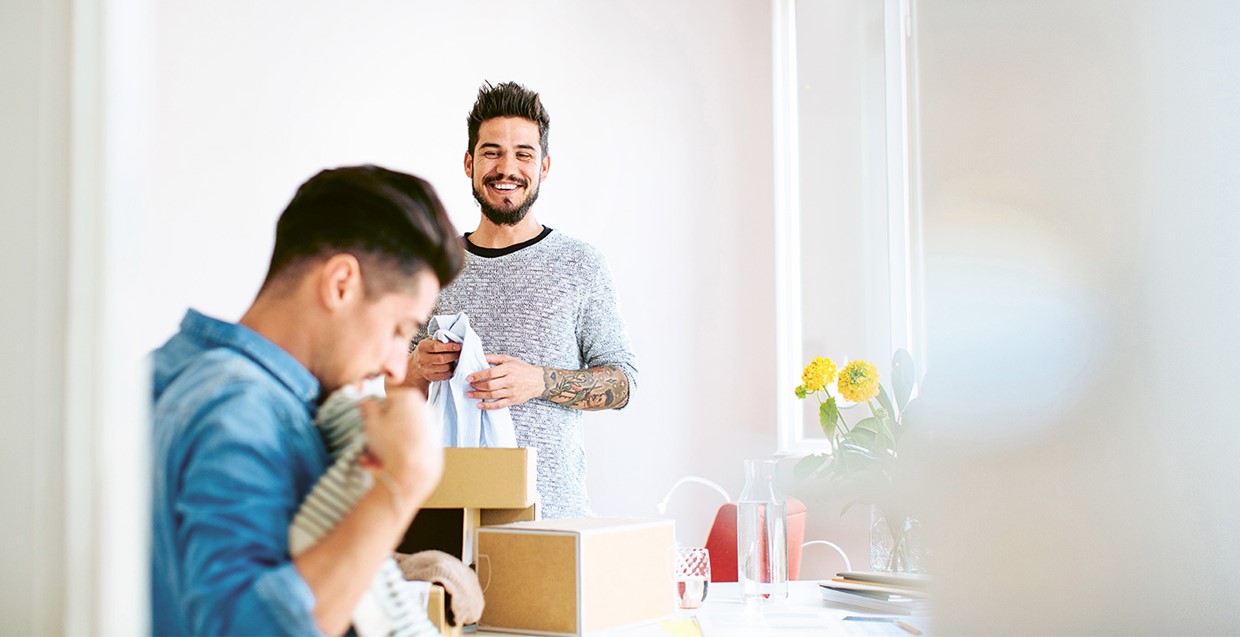 E-commerce
Logistics solutions from a single source
Baby clothing, furniture, dishes – and of course coffee: all this and much more besides can be ordered online at Tchibo. Swiss Post offers retailers services ranging from shipping and customs clearance to returns management.
With its slogan "A new world every week", tchibo.ch makes online shopping fun. Raincoats, laundry baskets and garden lamps can all be ordered at the click of a mouse. Customers in Switzerland have their goods delivered from Germany within just a few days. Swiss Post takes care of delivering the parcels – but not only that. "We handle all processes involved in customs clearance, import and export – both for delivery to Switzerland and for returns management," says Thomas Merz, Key Account Manager at PostLogistics.
Because what happens if the trousers you ordered are too tight, or if you don't like the product? Swiss Post steps in again. At the Pfungen logistics center, trained Swiss Post staff scan and open parcels with a return label to check their contents. Cardboard boxes and defective goods are disposed of. Returns that are in good condition are taken back to Germany by the same trucks that bring new products to Switzerland – whenever possible. Swiss Post works constantly on its processes, optimizing trips from both an environmental and economical perspective.
The convenient installation service
That you don't want to simply tuck a sofa bed under your arm at a branch of Tchibo and carry it home goes without saying. Especially considering that Swiss Post can deliver it directly to your living room on the date you specify. This installation service is becoming an increasingly important mainstay. Swiss Post staff can also assemble wall units, deliver, unpack and program television sets, or set your washing machine up. Retailers do not require their own vehicle fleet or any additional staff – and the recipients of the goods enjoy the convenience.
Overnight branch deliveries
"With its reliable and versatile logistics solutions from a single source, Swiss Post provides us with real added value," says Jürg Bodenmann, CEO of Tchibo (Switzerland) Ltd. "This enables us to focus on creating our new product ranges week after week." Swiss Post uses its delivery vehicles to distribute products to Tchibo branches and shop-in-shop depots at Coop, Spar and Volg. All of this happens overnight, so that the goods can be prepared before stores open – and entice high-street customers, too.
Mail Order Regulation 2019
From 2019, mail order companies abroad will be subject to VAT if their annual turnover from small consignments to Swiss customers exceeds 100,000 francs.  The newly tax­able companies must register with the Federal Tax Administration (FTA) – and with Swiss Post, which provides legally- and tax-compliant customs clearance and billing services and furnishes the parties with the correct records and documents. Swiss Post has adapted its systems accordingly, in consultation with the relevant authorities.