More diverse and more dense
Whether it's at a major distributor, from home, at terminals while on the go, at a local shop or at one of Swiss Post's self-operated branches: postal transactions can be carried out at a wide range of access points. At the end of 2019, there were 4,753 of these available.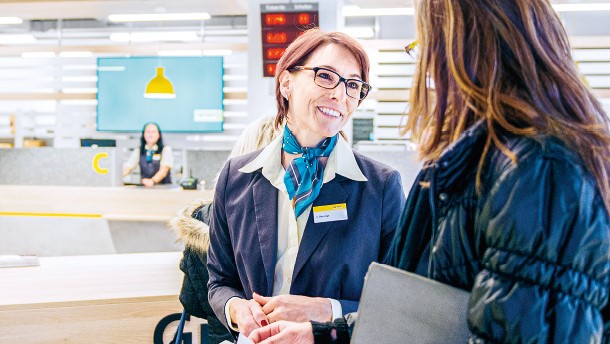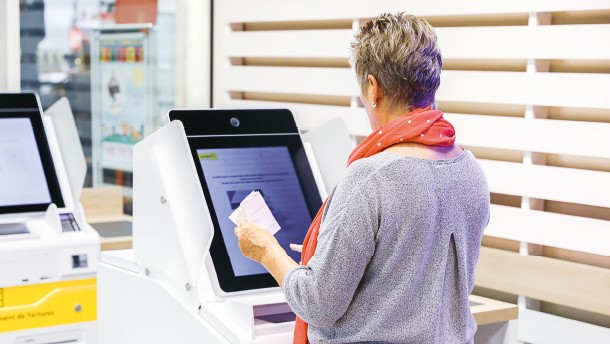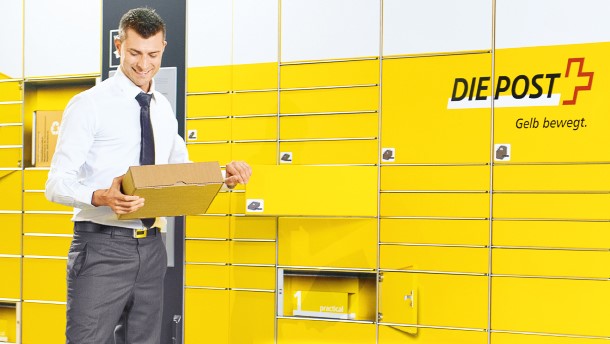 "How can I help you?" When you go into Dietikon's newly opened branch, which was designed according to Swiss Post's new concept, you will be greeted right by the door. "We want to meet our customers when they come into the branch and serve them directly," says Ueli Lüdi, Head of Network Management at PostalNetwork. "We escort them to the right place, answer their questions and provide assistance." Bright, friendly and accessible, the new branch features a Swiss Post counter (reception desk), self-service terminals for inpayments, My Post 24 terminals and counters with no glass panels. The furniture and advice counter, as well as the shelves, partition walls and sound insulation are made locally and sustainably for Swiss Post in Emmental.
With its investment of some 40 million francs in the modernization of around 300 self-operated branches, Swiss Post is making a clear statement. "The concept goes beyond a visual modernization of the branches," says Ueli Lüdi. "The focus is on offering more personalized customer advice, building up awareness of all aspects of our digital services and the related issue of providing professional development for staff." At the new-look branches, customers can experience the diversity of Swiss Post's services and products.
Since September 2019, the 100 largest branches have also been introducing terminals that allow customers to carry out their own inpayments without having to queue at the counter.
Swiss Post is expanding its network and restructuring it to meet its customers' needs.
More local entrepreneurship
For historical reasons, many of Swiss Post's branches are managed by small teams. In future, postal network employees will work together in larger teams across multiple branches. To enable this, Swiss Post has been restructuring the organization of its branch network, which employs 5,500 people, since mid-2019. Staff are now responsible for all types of Swiss Post access points and can provide customers with even more compre­hensive advice about the services on offer. The aim is to create better opportunities for employees in customer-facing roles to share their extensive experience and strengthen the scope for entrepreneurial freedom at the grassroots level.
Serving Switzerland in 4,753 locations
Swiss Post is also working elsewhere to fulfil its customers' changing requirements and habits. It has achieved its original goal of creating 400 new access points in the 2017–2020 strategy period. The number of branches with partners is being increased to between 1,200 and 1,300, while the number of self-operated branches will be reduced to between 800 and 900. Thanks to opening hours that are often more than twice as long and integration into local shops, bakeries or municipal administration, this model has become very well established. With a view to making branches even more customer friendly, Swiss Post has developed a new solution for service counters. Swiss Post has ordered 1,600 new pieces of furniture, which are compact, flexible and space-saving. Starting in 2020, they will gradually replace all of the current self-service modular units.
Around 400 service points at Migros
As part of its ongoing development of the postal network, Swiss Post has entered into a partnership with Migros. It has now integrated almost 400 service points, where customers can drop off and collect their parcels, into this major distributor's branches throughout Switzerland, making it even easier for customers to combine their shopping and postal transactions under one roof.


Financial Report, pages 8–9

We're acting now for tomorrow