Digital payment transactions 
Cash payments are less important in 2022 – and PostFinance has solutions
Paying in cash? That's something many people in Switzerland are doing less and less often. Debit and credit cards have become the most important means of payment in 2022 – and paying by mobile phone is also increasingly popular. With its new PostFinance Card combined with Debit Mastercard® and the TWINT mobile app, PostFinance is very well positioned for the change.
More and more people in Switzerland are paying with cards, fewer and fewer with cash – trend is shown in a series of studies that have been looking into the payment behaviour of the Swiss public for a number of years. In 2022, the debit card remains the most widely used payment method in Switzerland, in terms of both use and turnover. The use of cash has stabilized in second place: in point-of-sale business, such as shops or restaurants, one in three payments is still made with hard cash – particularly for smaller amounts. The popularity of mobile smartphone payments in these settings is also on the rise, although it still lags well behind debit cards, cash and credit cards. It's a different matter online, where the credit card reigns as the most widely used payment method, followed by TWINT and debit cards, and finally payment by invoice.
We are proud that our yellow card combined with Debit Mastercard is becoming even more attractive. It enables our customers to benefit from virtually unlimited payment options, both online and in person.
Benjamin Staeheli
Head of Payment Solutions at PostFinance
More payment options worldwide with the PostFinance Card
For many years now, PostFinance has been driving the development of convenient and secure cashless payment solutions for its customers. Last year, it launched the new "PostFinance Card combined with Debit Mastercard", which can now be used to make payments practically anywhere in Switzerland and abroad. The yellow card can also be used for online orders from home and on the go. "Thanks to the addition of Debit Mastercard, the card will become much more attractive for our 2.6 million customers," says Benjamin Staeheli, Head of Payment Solutions at PostFinance.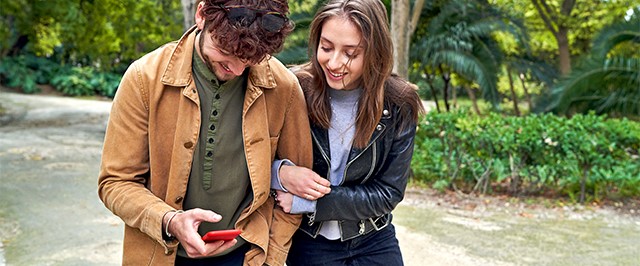 TWINT increasingly popular
According to the latest surveys, more than half of the Swiss general public would no longer want to be without TWINT. The Swiss payment app, originally developed by a PostFinance subsidiary, is particularly popular among 18- to 25-year-olds, who like the fact that they don't have to enter personal data when making payments and that the payments are fast and inexpensive. And it's worth noting: after cracking the 1 million mark in 2022, the PostFinance TWINT App then also went on to become the most popular TWINT app in Switzerland, with more than 1,125,000 registered PostFinance TWINT users at the end of the year.   It accounts for around 21 percent of the entire TWINT ecosystem.
Contribution to the Sustainable Development Goals
CO2 calculator
Your weekly shop at the supermarket, a new vacuum cleaner, that city break in Paris: shopping for your daily needs – and treating yourself to something special once in a while – inevitably produces CO2 emissions. Because the greatest potential available to each and every one of us lies in changing our own consumption behaviour, PostFinance has developed its own CO2 calculator. It records all transactions a person makes with the PostFinance Card, a PostFinance credit card and TWINT anonymously. Using a defined CO2 emission factor, the calculator then estimates the individual footprint caused by daily consumption. Users with an e-finance login can view and analyse their own data in 14 categories. After all, the better informed people are, the more effective their action can be.
News
Yuh
In May 2022, finance app Yuh turned one year old – and celebrated its birthday with 60,000 "Yuhsers".  The digital financial product, jointly developed by Swissquote and PostFinance, brings together the most important financial instruments in a single innovative app. Yuh is an exciting development for people who prefer to take care of everything digitally, ideally with apps on their smartphone. The special thing about Yuh: not only does it support savings plans and payments, it is a neobank that also makes it easy to get into trading. And it can be used to trade cryptocurrencies, too. In autumn 2022, Yuh moved into the vanguard, becoming the first bank to start paying interest on cash holdings as early as 1 September. At the end of 2022, the app registered more than 100,000 customers for the first time. 
yuh.com
Contribution to the Sustainable Development Goals
E-asset management
PostFinance e-asset management has grown. In 2022, assets under management exceeded the 1 billion franc threshold. The service is now used by more than 20,000 customers,  many of them starting with what in the investment business are considered relatively small amounts, in the knowledge that they can rely on PostFinance's investment experts to invest their money optimally in accordance with their individual investment strategy. A newly introduced feature also allows customers to use a savings plan to invest in e-asset management to benefit from the cost averaging effect.
postfinance.ch/eam
Launch of ESG funds
Saving sustainably for old age: demand among customers for financial products that can do just that is growing, and PostFinance has continued to develop its services accordingly. Since May, the four PostFinance Pension retirement funds have been strategically geared towards sustainability in accordance with environmental, social and corporate governance (ESG) criteria, with PostFinance adopting the "best in class" approach. This means that investments are made in companies delivering the best sustainability performance within their industry. For each of the investment funds, adhering to these sustainability criteria achieves a better ESG value and a lower carbon footprint compared to the benchmark index.
postfinance.ch/strategy-funds
Contribution to the Sustainable Development Goals