We're acting now for tomorrow
Sustainability 2022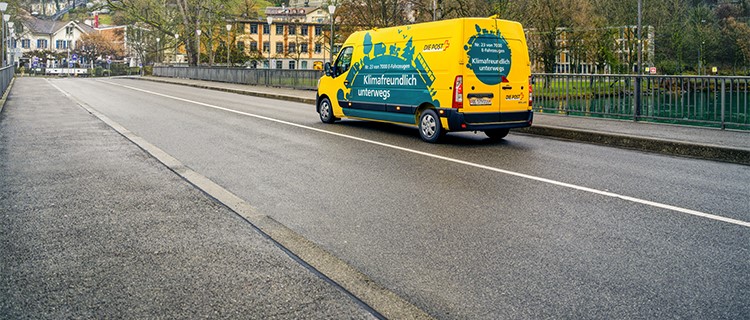 Focus on six Sustainable Development Goals
Swiss Post takes its social, environmental and economic responsibilities seriously. In conjunction with its stakeholders, it has identified environmental and social priorities. Based on these priorities, areas of action in which additional benefits can be created through sustainability and employer attractiveness can be enhanced have been identified along the entire value chain.
As a universal provider and the backbone of mobility, Swiss Post makes a significant contribution to achieving the Sustainable Development Goals (SDGs) set by the UN as part of its 2030 Agenda for Sustainable Development. The aim is to achieve the 17 goals and 169 targets by 2030, helping to resolve the most critical challenges facing the world. Swiss Post focuses its efforts on six goals where it can have the greatest impact.
Global Reporting Initiative Index (PDF)
Environment
A sustainable future for the next generation is one of Swiss Post's key concerns. Swiss Post minimizes the undesirable effects of its business activities on the environment (with a focus on climate and energy), while simultaneously maximizing the positive effects. In defining its goals, it is guided by the recommendations of the Intergovernmental Panel on Climate Change (Science-Based Targets initiative (SBTi)).
From 2025, Swiss Post will transport letters and parcels carbon neutrally in urban centers. The company aims to be carbon neutral in its in-house operations from 2030. This includes switching its vehicle fleet to alternative drive systems, acquiring 100 percent of its electricity from renewable energy sources in Switzerland and phasing out fossil fuels for heating. From 2040, Swiss Post intends to be carbon neutral along the entire value chain (net zero). To achieve this, it will neutralize unavoidable residual emissions from its in-house operations from 2030.
Economy
Swiss Post creates economic and social added value and contributes to the common good. It is present everywhere in Switzerland, ensures access to important services and connects regions and generations with one other. It continues to develop its range of public services in dialogue with its stakeholders, financing these services with its own resources.
The need for sustainable solutions is growing – among private individuals and companies alike. Swiss Post is continuously strengthening its expertise in sustainable solutions, offering services that support environmentally-friendly business models and enabling everyone to act more sustainably. It is committed to responsible procurement and takes its role as a pioneer in sustainability seriously.
Society
Swiss Post is close to its customers and a reliable partner in their everyday lives. It has not only reliably fulfilled the universal service obligation mandated by the Confederation for many years, it is also committed to a strong, modern and sustainable society.
Swiss Post offers fair, attractive and economically sustainable employment conditions and a working environment that encourages strong individual performance and a good balance between work and other aspects of life.
Swiss Post promotes diversity, integrates people from all backgrounds and does not tolerate discrimination.
It supports its employees' physical and mental health and promotes their employability with ongoing training
Good health and well-being
Ensure healthy lives and promote well-being for all at all ages.
Swiss Post contributes to the following targets under SDG 3:
3.6: By 2020, halve the number of global deaths and injuries from road traffic accidents
3.8: Achieve universal health coverage, including financial risk protection, access to quality essential healthcare services and access to safe, effective, quality and affordable essential medicines and vaccines for all
3.9: By 2030, substantially reduce the number of deaths and illnesses from hazardous chemicals and air, water and soil pollution and contamination
Our ambition and contribution to the goal
As a major fleet operator, Swiss Post generates air and noise emissions and aims to reduce these significantly. It can also make a contribution to safety on Swiss roads. As one of Switzerland's largest employers, it has a positive impact on the health and well-being of many people.
Our performance in 2022
Measures and programmes aimed at prevention in health, employability and the social environment were introduced and developed.
Clean air: around 60 percent of the vehicle fleet is powered by alternative drive technologies.
In 2022, PostBus introduced an electric bus on various routes in Interlaken and the surrounding area.
Delivery points are equipped with charging stations and electric vehicles to ensure carbon-free delivery. Since the end of 2022, Swiss Post deliveries from 93 delivery points have been CO2-free.
Swiss Post wants to further increase the number of parcels transported by rail in order to take advantage of the environmental benefits of rail transport. Currently, Swiss Post operates more than 10 logistics locations with rail connections. Every day, SBB Cargo operates 45 parcel trains and 15 letter trains across Switzerland for Swiss Post − with a total of around 470 wagons. Letters and small parcels are transported in special wagons on particularly fast freight trains.
Affordable and clean energy
Ensure access to affordable, reliable, sustainable and modern energy for all.
Swiss Post contributes to the following targets under SDG 7:
7.2: By 2030, increase substantially the share of renewable energy in the global energy mix
7.3: By 2030, double the global rate of improvement in energy efficiency
7.a: By 2030, enhance international cooperation to facilitate access to clean energy research and technology, including renewable energy, energy efficiency and advanced and cleaner fossil-fuel technology, and promote investment in energy infrastructure and clean energy technology
Our ambition and contribution to the goal
From 2030, Swiss Post's in-house operations will be carbon neutral. From 2040, the company aims to be completely carbon neutral, including along the entire value chain (net zero). This will entail removing any emissions that still remain in 2040 from the atmosphere via climate projects. Swiss Post's ambitious climate target is in line with the United Nations' goal of limiting global warming to a maximum of 1.5°C.
Our performance in 2022
The approximately 6,000 electric scooters and 420 electric delivery vans run on "naturemade star"-certified green energy. Swiss Post operates the largest electric delivery fleet of all European postal companies.
The delivery fleet is becoming increasingly climate-friendly: at present, 93 of around 450 delivery locations are already delivering letters and parcels exclusively with electric vehicles.
In its buildings, Swiss Post is replacing fossil-fuel heating systems with alternatives based on renewable energy.
Swiss Post operates some of Switzerland's largest photovoltaic systems on its roofs. The 31 systems produce 10.9 GWh of solar power.
Swiss Post covers 100 percent of its electricity requirements from renewable sources from Switzerland.
Decent work and economic growth
Promote sustained, inclusive and sustainable economic growth, full and productive employment and decent work for all.
Swiss Post contributes to the following targets under SDG 8:
8.2: Achieve higher levels of economic productivity through diversification, technological upgrading and innovation, including through a focus on high-value added and labour-intensive sectors
8.4: Improve progressively, through 2030, global resource efficiency in consumption and production and endeavour to decouple economic growth from environmental degradation, in accordance with the 10-year Framework of Programmes on Sustainable Consumption and Production, with developed countries taking the lead
8.8: Protect labour rights and promote safe and secure working environments for all workers, including migrant workers, in particular women migrants, and those in precarious employment
8.10: Strengthen the capacity of domestic financial institutions to encourage and expand access to banking, insurance and financial services for all
Our ambition and contribution to the goal
Swiss Post enables a high degree of economic productivity through modernization and innovation and is endeavouring to improve resource efficiency and to decouple economic growth and environmental destruction. It supports productive full employment for all women and men, including young people and people with disabilities, with equal pay for the same work. It protects employment rights and promotes a safe working environment for all employees. It categorically opposes forced labour, modern slavery and child labour and demands the same from its suppliers (see also SDG 12).
Our performance in 2022
In 2022, Swiss Post opened two new regional parcel centers in record time: one in Rümlang (Canton of Zurich) and one in Buchs (Canton of Aargau). Swiss Post created a total of 235 new jobs in industrial areas. In Buchs, around one in every 35 employed people now works for Swiss Post.
In 2022, Swiss Post reached milestones in the implementation of its strategy, entering into its first collaborations with health insurance providers and banks. Along with the finance app Yuh, which brings together the most important financial instruments in a single innovative app, Swiss Post encourages and expands access to banking, insurance and financial services for all.
16,224 people work in peripheral regions in Switzerland.
1,839 apprenticeships.
Inclusive measures for people with disabilities.
Seven collective employment contracts with high standards in terms of non-discrimination, health and equal pay.
We are committed to equality and promote the careers of women and men across all age groups.
Improved working conditions for mothers and fathers.
Swiss Post's suppliers must sign its Code of Ethics and Social Responsibility.
Industry, innovation and infrastructure
Build resilient infrastructure, promote inclusive and sustainable industrialization and foster innovation.
Swiss Post contributes to the following targets under SDG 9:
9.1: Develop quality, reliable, sustainable and resilient infrastructure, including regional and transborder infrastructure, to support economic development and human well-being, with a focus on affordable and equitable access for all
9.4: By 2030, upgrade infrastructure and retrofit industries to make them sustainable, with increased resource-use efficiency and greater adoption of clean and environmentally sound technologies and industrial processes, with all countries taking action in accordance with their respective capabilities
9.5: Enhance scientific research, upgrade the technological capabilities of industrial sectors in all countries, in particular developing countries, including, by 2030, encouraging innovation and substantially increasing the number of research and development workers per 1 million people and public and private research and development spending
Our ambition and contribution to the goal
Swiss Post makes a substantial contribution to high-quality, reliable and resilient infrastructure – regionally and internationally – and provides affordable and equal access to its services for everyone. To achieve this, it is continuously and sustainably modernizing its processes and infrastructure, it focuses on environmentally acceptable technology and it drives innovation forward. It is opening up its extensive network of access points to partners.
Our performance in 2022
Swiss Post provides public postal services for the whole of Switzerland. Through its solutions and services, Swiss Post provides the public, companies, healthcare system and public authorities in Switzerland with intuitive digital interactions, enabling simple and secure handling of their data. Thanks to its acquisition of Unblu Inc., Swiss Post has further expanded its digital competencies.
Swiss Post currently has around 800 self-operated branches at busy locations, where it handles more than 320,000 customer contacts per day. By 2024, Swiss Post intends to increase the number of access points from just under 4,900 to over 5,000. The Universal Postal Union has named Swiss Post the world's best postal service for the sixth consecutive time.
Through its "PostVenture" and "Postidea" innovation programmes, Swiss Post is developing future-oriented solutions and new business models.
Since last July, 175 staff in sorting and delivery have been processing parcels for the Buchs region. Swiss Post invested 15 million francs in the conversion of a vacant warehouse – including charging stations for electric vehicles at every gate. Because the space available was a little small for a parcel center, creative solutions and innovative technologies were required.
Sustainable cities and communities
Make cities and human settlements inclusive, safe, resilient and sustainable.
Swiss Post contributes to the following targets under SDG 11:
11.2: By 2030, provide access to safe, affordable, accessible and sustainable transport systems for all, improving road safety, notably by expanding public transport, with special attention to the needs of those in vulnerable situations, women, children, persons with disabilities and older persons
11.3: By 2030, enhance inclusive and sustainable urbanization and capacity for participatory, integrated and sustainable human settlement planning and management in all countries
11.6: By 2030, reduce the adverse per capita environmental impact of cities, including by paying special attention to air quality and municipal and other waste management
11.a: Support positive economic, social and environmental links between urban, peri-urban and rural areas by strengthening national and regional development planning
Our ambition and contribution to the goal
Swiss Post contributes to more inclusive and sustainable urban development and creates positive links between urban, suburban and rural areas. It is aiming to reduce environmental pollution, improve air quality and achieve positive developments in waste management in cities. PostBus creates access to safe, affordable, accessible and sustainable transport systems for all through its public transport. The company is constantly improving safety on the roads, with particular emphasis on people with special needs.
Our performance in 2022
For the delivery of 3.4 billion consignments, Swiss Post uses 6,000 electric scooters and 420 electric delivery vans. This means that delivery is carbon offset.
On the last mile, Swiss Post supports low-CO2 delivery with electric scooters, electric delivery vans and cargo bikes.
By collecting recyclable materials and collaborating with bakers and farmers (regional produce), it reduces empty runs.
Whether at ESAF, the Swiss Wrestling and Alpine Festival in Pratteln, Switzerland's largest periodic sporting event, or at BuLA, the Scouts' National Jamboree in Goms: in 2022, PostBus was a reliable transport partner for numerous major events.
Book and pay for excursions through the Gruyère Nature Park by app. For the route operators, including PostBus, bookings made with the app are easier to manage than bookings by phone. In particular, the app improves their ability to keep track of bookings and avoid empty journeys – which is more sustainable from both an economical and an environmental perspective.
Responsible consumption and production
Ensure sustainable consumption and production patterns.
Swiss Post contributes to the following targets under SDG 12:
12.5: By 2030, substantially reduce waste generation through prevention, reduction, recycling and reuse
12.6: Encourage companies, especially large and transnational companies, to adopt sustainable practices and to integrate sustainability information into their reporting cycle
12.7: Promote public procurement practices that are sustainable, in accordance with national policies and priorities
12.8: By 2030, ensure that people everywhere have the relevant information and awareness for sustainable development and lifestyles in harmony with nature
Our ambition and contribution to the goal
Swiss Post promotes sustainable consumption patterns and the sustainable management and efficient use of natural resources, as well as sustainable public procurement procedures. With its services, Swiss Post helps to increase the frequency of use and recycling rate of resources, thereby ensuring that consumption in Switzerland is more sustainable. It systematically incorporates sustainability information into its reporting and, as far as possible, provides customers and employees with knowledge about sustainable development and incentives for living in harmony with nature.
Our performance in 2022
Swiss Post collects old clothing, coffee capsules, routers and PET bottles and ensures they are recycled professionally.
Swiss Post promotes sustainable packaging: in the interests of the circular economy, Swiss Post acquired Kickbag GmbH. The kickbag can be reused up to 30 times and is more environmentally friendly than cardboard or plastic even from its second use.
As of 2021, all consignments (in Switzerland and abroad) are sent with the "pro clima" label, which means that they are carbon offset.
Shopping for your daily needs – and treating yourself to something special once in a while – inevitably produces CO2 emissions. Because the greatest potential available to each and every one of us lies in changing our own consumption behaviour, PostFinance has developed its own CO2 calculator.
Since May, the four PostFinance Pension retirement funds have been strategically geared towards sustainability in accordance with environmental, social and corporate governance (ESG) criteria, with PostFinance adopting the "best in class" approach. This means that investments are made in companies delivering the best sustainability performance within their industry.
Swiss Post incorporates sustainability criteria into its service tenders. It requires major suppliers to undergo a risk evaluation.
The highest award from the Fair Wear Foundation for comprehensive social standards in the manufacture of clothing.