Interview with Christian Levrat and Roberto Cirillo 
"It's all about trustworthy transport of goods and information"
The end of 2022 marks the midpoint of the current strategy period. In a joint interview, Chairman of the Board of Directors Christian Levrat and CEO Roberto Cirillo explain where we are now and what steps we still have to take as we work towards achieving our goals.
Mr Levrat, the Swiss Post of tomorrow strategy was launched two years ago, and the current strategy period still has another two years to go. What is Swiss Post's current situation, and what happens next?
Christian Levrat: Swiss Post will continue to develop in line with the strategy set out for the period 2021–2024. The most important options have been identified and the challenges are known: responding to the increasing digitization of our services, expanding our capacities to support our customers' needs, accelerating the transition towards sustainability. We will probably see faster implementation of the chosen options and some sporadic adjustments, but the cornerstones of our strategy will remain the same in the future.
Mr Cirillo, are you on schedule with implementation of the strategy?
Roberto Cirillo: The implementation of our strategy is in full swing, and we are fundamentally on track. By amalgamating the parcel and letter units, constructing regional distribution centers and devising new approaches to deliveries in urban areas, we are not only making our logistics more efficient, but – most importantly – more environmentally friendly. By 2030, we will be carbon neutral in our in-house operations. Thanks to our acquisitions of goods logistics companies in Switzerland and neighbouring countries, and Asendia's takeover of cross-border e-commerce platform eShopWorld, we are strengthening Switzerland's infrastructure in international goods transport. We successfully sold the subsidiary SPS, which operates in the outsourcing business, allowing us to focus our investments in our core markets of logistics and (digital) communication. Through our investments in digital services, we are ensuring that we are in a position to develop the universal service of the future without the support of the taxpayer. PostBus is working to make its vehicles climate-friendly and is helping the cantons with new mobility concepts, such as the on-demand bus. And of course, Swiss Post has maintained its financially sound footing despite the turbulence of recent years. So yes, we are on track, although there are still issues here and there with the speed of implementation.
Swiss Post is making the ability to transfer sensitive data in the digital world confidentially and via a Swiss provider more and more of a reality.
Roberto Cirillo
CEO
There is more and more talk about sustainability at Swiss Post. How important is sustainability for Swiss Post?
Christian Levrat: Swiss Post has recently stepped up the pace of its sustainability goals dramatically. In large cities such as Bern, Zurich, Basel and Geneva, we now plan to deliver parcels with electric vehicles by 2025. By 2030, the aim is for Swiss Post's entire infrastructure to be carbon neutral (Scopes 1 and 2). We will no longer use any fossil-fuel energy sources, which makes a difference, given that we operate Switzerland's largest fleet of vehicles. Sustainability is not just an empty phrase for us. We want to take the lead and assume our responsibilities – as our customers are now requiring us to do. Businesses are setting the pace for us, not primarily politicians or public authorities. Major customers who send millions of parcels are asking that we deliver them in an environmentally-friendly manner.
Digitization continues to be the biggest driver of change in society and business life. What does this mean for Swiss Post and its customers?
Roberto Cirillo: New communication possibilities that have emerged as a result of digitization have also changed customer requirements. We have to respond to these changes, and we have created the Communication Services unit to do so. The electronic patient record, encrypted IncaMail, cybersecurity solutions, digital SME solutions and public authority solutions are already on the market. Our e-voting solution was delivered to the cantons at the end of 2022. Swiss Post is making the ability to transfer sensitive data in the digital world confidentially and via a Swiss provider more and more of a reality. For Swiss Post, it is hugely important to be customer-centric and to involve customers in our planning.
Closeness and cohesion are core Swiss values. What happens to the idea of closeness if Swiss Post digitizes everything?
Christian Levrat: Closeness and cohesion are also key values for Swiss Post. To ensure that no one is sidelined by the process of digitization, we have stabilized the number of our self-operated branches at around 800. By opening them up to third-party providers such as Assura, Sympany, Migros Bank and Cornèr Bank, we are creating more and more service centers in Swiss communities. Ultimately, what we are doing is making our physical contact points more valuable to our customers.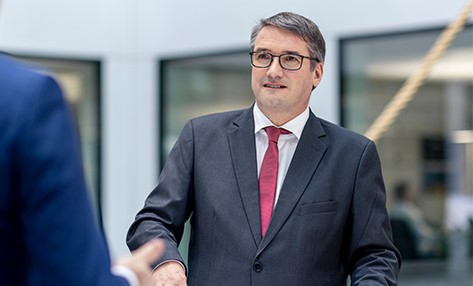 Sustainability is not just an empty phrase for us.
Christian Levrat
Chairman of the Board of Directors
The baby boomers are retiring. There is a labour shortage, and in particular a shortage of skilled workers. How is Swiss Post dealing with this?
Roberto Cirillo: Last year, Swiss Post HR filled around 3,800 positions, and it processes about 62,000 applications every year – not including apprentices.   We are handling around 350 to 400 vacancies at any given time. Often not an easy undertaking, because the shortage of skilled workers is also becoming evident at Swiss Post. Competition in the labour market has intensified appreciably in recent years. We are now seeing it not only in professional fields like IT, technology and innovation, but also in logistics, at PostalNetwork and at PostBus. In concrete terms, Swiss Post will need to fill around 11,000 to 12,000 full-time equivalent positions by 2026.   There are essentially two reasons for this: by 2026, around 4,000 employees will either reach ordinary retirement age or take early retirement. Approximately 7,500 positions will become vacant as employees leave Swiss Post voluntarily. While staff turnover at Swiss Post is comparatively low, professional mobility is generally on the increase. This means that it's all the more important for us to be able to convey what Swiss Post has to offer as an employer, both internally and externally. With more than 100 professions, we offer an exceptionally varied range of jobs and development opportunities.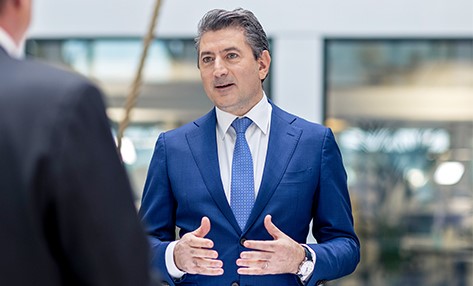 Competition in the labour market has intensified.
Roberto Cirillo
CEO
How important is corporate culture for Swiss Post?
Roberto Cirillo: A strategy can be as good and innovative as possible. But if the culture within a company doesn't fit with this or acts as a hindrance, then it's difficult if not impossible to succeed with that strategy. That is why we have also developed a vision for our culture at Swiss Post. What we are now doing is embedding this new culture in the organization and in our teams. In very specific terms, we are looking to strengthen customer centricity, promote foresight and focus on the big picture at Swiss Post. We want to become bolder and encourage our staff to act independently and entrepreneurially. Well-functioning processes – one of Swiss Post's great strengths – remain essential. Parcel and letter deliveries need to be reliable, and they must be on time. And relations between people – a sense of social and societal responsibility – also remain an important aspect of our culture.
With reference to the corporate culture: how important is the issue of compliance?
Christian Levrat: Very important! We try to see compliance as an opportunity to identify risks at an early stage and avoid damage. We want to and need to learn from mistakes. But this means not sweeping mistakes under the carpet, and instead looking at them, finding out why they happened and how they can be avoided in the future. We deliberately set the bar high on this issue. Integrity is the prerequisite for a well-functioning compliance management system. And when it comes to integrity, leaders in particular must set an example within the company.
In 2023, the Confederation celebrates its 175th anniversary. Just a few months after the modern Swiss state was founded, so too was the postal service. How important is the history of the postal service for the Swiss Post of today?
Roberto Cirillo: In essence, we are still the same company: it's all about trustworthy transport of goods and information. With the passage of time, society, the world of work and our technologies have seen massive changes. Swiss Post has always adapted the products and services it offers and always made use of the latest technologies to become more efficient and to make everyday life as easy as possible for the public. Our history makes us part of the Swiss identity. A central part of this tradition is that we are a company focused on modernization that takes care to anticipate how we can contribute to this country in the future.
Swiss Post is not an end in itself!
Christian Levrat
Chairman of the Board of Directors
What about the public service of the future?
Christian Levrat: The public service of the future will not be created in a back room at Swiss Post. Public service ensures that people living in Switzerland and the companies and organizations based here receive the same services at the same prices. Regardless of where they live or do business. This means that we have to react to social and economic changes, and ideally that we anticipate developments with a view to ensuring that the public service is also available quickly in times of change and innovation. Swiss Post is not an end in itself! We are here to bring Switzerland closer together and to support people and companies with our services.
Smart Governance
Swiss Post operates and continuously develops a governance management system. Internal regulations are part of this system – and until now, they were like a jungle: in their everyday work, staff had to take their bearings from many detailed regulations governing issues such as sponsoring or anti-corruption. At Group level (excluding Group units), there were almost 1,000 pages of regulations in place. The Smart Governance project aims to streamline and simplify these internal regulations. The motto: as many regulations as needed, as much entrepreneurial freedom as possible. The idea is for staff to act more pragmatically, take on more responsibility and be able to show more personal initiative. The new internal regulations at Group level come into force in spring 2023, along with a new IT tool for improved access to internal regulations. The documents for the individual Group units will be streamlined at a later date. PostFinance operates its own governance management system.