The Swiss Post of tomorrow
Swiss Post is tackling the challenges of the future. It is focusing on what it does best: transporting goods, information and people and providing financial services. Wherever it needs to build up new competencies, it makes targeted investments. Always with the goal of providing the universal postal service from its own resources. Both now and in the future.
The new strategy entered into force on 1 January 2021.
Public service is and remains the core of Swiss Post
For over 170 years, Swiss Post has been an institution that fosters national cohesion and provides public services on behalf of the Swiss Confederation. However, the environment in which Swiss Post operates has changed significantly over the past 20 years, with opportunities arising that the company plans to harness in the interests of Switzerland.
Swiss Post has experienced a long history of continuous change. Today, as a company limited by shares subject to a special statutory regime, it ensures the provision of the universal service (physical and digital) for letters, parcels and payment transactions. It is a leading mobility provider in road-based public transport. The proven model of a state-owned company limited by shares that provides its services on the market and finances itself from its own resources should remain the model of the future. However, Swiss Post aims to update the model by making substantial investments that will enable the company to secure Switzerland's self-financed universal service for the future.
Swiss Post's situation before the new strategy
Key drivers of past earnings faced a difficult market environment: the digitization of business processes caused a sustained reduction in letter volumes, which have fallen by 18 percent since 2017. Persistently low interest rates weighed on PostFinance's interest differential business. The interest margin has declined by 40 basis points since 2017. Digitization also reduced demand for services at the branches. The number of over-the-counter inpayments has fallen by around one third since 2016. Parcel volumes, on the other hand, driven by national and international e-commerce, have continued to rise – by no less than 53 percent compared to 2017. Overall, the growing parcel business was unable to make up for the decline in letter volumes.
We don't just want to maintain the universal service, we want to strengthen and develop it.
Roberto Cirillo
CEO
Megatrends accelerated this market development, leading to significant changes in the environment in which Swiss Post operates: digitization is breaking down traditional value chains and changing business models fundamentally. Data is becoming the new driver of innovation. Demand among customers for a positive customer experience and easily accessible services has risen sharply. The internationalization of goods flows is producing increasing levels of complexity. Sustainability and social responsibility are becoming the basis of people's conduct, offering opportunities for new ranges of services in areas such as the circular economy. For Swiss Post, demographic change and increasing urbanization entail new and additional challenges for providing its services over the "last mile".
Fulfilling the Federal Council's mandate
Achieving a balance between state ownership, the universal service and economic viability is becoming more challenging. The Federal Council's strategic requirements for the period 2021–2024 require Swiss Post to continue offering a high standard of competitive, innovative products, services and solutions in both physical and electronic forms within its core business – the fields of communication, logistics, financial services and passenger transport. With the new financial objectives, the Federal Council recognizes that Swiss Post is in a challenging phase of transformation. The Council is adjusting its expectations accordingly, but Swiss Post is expected over the next four years to establish the conditions required to allow it to safeguard the value of the company sustainably in the medium term. In addition, all business areas (with the exception of the subsidized area of PostBus) must achieve an industry-standard result.
This balance between the universal service and economic viability is threatened by market developments and the consistently high demands placed on the universal service. The regulatory restrictions on PostFinance with regard to lending are no longer sustainable in the long term. The financing of the universal service through the monopoly for letters under 50 grams is already insufficient, yielding less every year. To guarantee the balance between the universal service and economic viability, Swiss Post's proven business model must be modernized. The model of a state-owned company limited by shares that provides and finances its services on the market should remain the model of the future.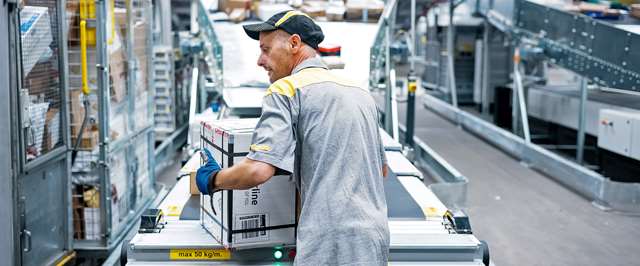 The Swiss Post of tomorrow
Through its "Swiss Post of tomorrow" strategy, Swiss Post aims to develop its existing model and supplement the components of state ownership, the universal service and economic viability with sustainable growth, enabling it to meet the Federal Council's strategic goals. To achieve this, however, Swiss Post also requires a balanced regulatory environment.
In its new strategy, Swiss Post is focusing clearly on the competencies and markets that provide the greatest benefit for Switzerland.
Roberto Cirillo
CEO
Growing sustainably and developing new competencies
Swiss Post wants to continue generating profits, which it invests in its ongoing development and the fulfilment of its universal service obligation. In its new strategy, Swiss Post is focusing clearly on the competencies and markets that provide the greatest benefit for Switzerland.
The focus in Swiss Post's markets * is on evolving its services towards a sustainable range of products for the whole of Switzerland.
Logistics
Expansion and innovation in logistics with a view to establishing Swiss Post as a comprehensive logistics service provider.
Communication
Facilitation of intuitive digital interaction for people, companies and public authorities, as well as simple and secure handling of their data.
Network
Presence throughout Switzerland, and expansion of the products and services on offer at the branches by opening up the network to partners.
Mobility
Development of future-oriented mobility solutions designed to create connections within Switzerland over the long term.
Financial services
Product innovation at PostFinance to strengthen market leadership in the private customer segment and in payment transactions.
These plans extend beyond national borders. Swiss Post ensures that Switzerland is connected to global goods flows. It contributes to sustainable development, operating in a resource-efficient and socially responsible manner. With regard to CO2 reduction, Swiss Post acts as a role model and contributes to Switzerland's sustainability goals.
2021 milestones
By merging PostMail and PostLogistics, Swiss Post countered declining letter volumes and a simultaneous sharp increase in parcel volumes. To manage the dramatic increase in parcel volumes, Swiss Post is investing in expanding parcel logistics.
Cross-border logistics flows (parcels and goods) are becoming more significant, and links between Switzerland and neighbouring countries are growing in importance for Swiss Post and its customers. Swiss Post is expanding these links through targeted acquisitions in countries close to Switzerland's borders. Through the price increase for letters as of 1 January 2022, Swiss Post is compensating for the cost increases accumulated over the past 18 years. Thanks to targeted acquisitions in the digitization sector, Swiss Post is developing its core business and adapting its products and services to market requirements.
More about the market strategies:
Logistics
Communication
Network
Mobility
Financial services
More about the environment and strategy:
Financial Report Pages 13–23
More about the corporate responsibility strategy:
 Financial Report Pages 24–27
Corporate responsibility and the UN's Sustainable Development Goals (SDGs)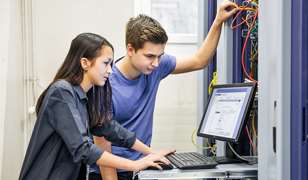 Focus on technology and digitization
Digital infrastructure, data security, online retail and logistics chains are becoming increasingly important to Switzerland's competitiveness and prosperity. For this reason, technology and digitization are major elements in Swiss Post's future development and the key to ensuring that Swiss Post can continue powering Switzerland.
Digital ecosystems
Swiss Post is developing digital customer solutions that are easy and intuitive to use but also enable secure and trustworthy interaction. Digital ecosystems are becoming more and more significant. One example is the ePost App, which enables companies and authorities to communicate with their customers easily and securely. Swiss Post is also continually improving the user-friendliness of its own digital solutions: customers can now use the "My consignments" online service to manage their consignments individually.
Information security and innovation
Maximum security for customer data – that goes without saying at Swiss Post. Digital products in particular require a high degree of trustworthiness. That's why Swiss Post uses modern methods in its information security strategy. Thanks to its bug bounty programme, which enables IT developments to be tested by an international hacker community, Swiss Post is playing a pioneering role in Europe. In the field of analytics, Swiss Post uses artificial intelligence (AI) to optimize processes via data-based findings and to develop new business models.
Digital and technological expertise
Digitization requires extensive know-how. As part of the development of the new e-voting platform, Swiss Post has established a highly specialized team of developers in Neuchâtel in order to guarantee postal secrecy in the digital world. Employees also benefit from the technological innovations. In parcel sorting, for example, robotic process automation (RPA) handles repetitive tasks that people had to perform manually via user interfaces on computers.
E-voting
ePost App
Digital health