Swiss Post – an attractive employer for everyone
A diverse workforce combines different outlooks, perspectives and ideas – the perfect environment for innovation, knowledge sharing and creativity. That's why Swiss Post promotes diversity in all its forms among its workforce.
During Pride Month in June, the windows of Swiss Post's headquarters in Bern and of the Sihlpost in Zurich and the staircase of the historic Mont Blanc branch in Geneva were lit up in the colours of the rainbow. Swiss Post displayed clear solidarity with the LGBTQIA+ community. In addition to internal communication measures, Swiss Post also launched the #HumansOfSwissPost awareness-raising campaign on social media, which was met with positive feedback. "Swiss Post looks yellow on the outside. But on the inside, it's very colourful," says Mariel Lemos, Co-Lead for Diversity & Inclusion at Swiss Post Group. "That's why, as an employer, we have been actively championing equality for many years, irrespective of gender, background, age, language, disabilities, culture, beliefs, lifestyle, sexual orientation or other visible or intangible traits."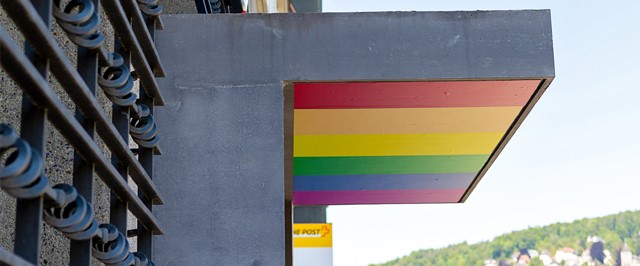 Evidence that this is not simply lip service is provided by the CEC that entered into force in 2021, which contains extended provisions on maternity and paternity leave for opposite-sex and same-sex couples, equality and protection against discrimination. The company's internal networks are also committed to these issues and provide platforms for discussion: RAINBOW for the LGBTQIA+ community, MOSAICO for linguistic and cultural diversity and the Young Voice network for Swiss Post's young employees.
As Swiss Post is a reflection of society through its 54,518 employees worldwide, it is an attractive employer for all kinds of talented people. This also contributes to its business performance, as Mariel Lemos points out: "We cannot successfully provide the right products and services unless we know and understand all our customers' needs."
Contribution to the UN's Sustainable Development Goals
Decent work and economic growth