When the smell of ice cream wafts out of the letter box
As it does every year, Swiss Post sent out a set of cards to 150,000 customers – in 2020, these featured fragrant summer greetings. The cards could also be ordered on Swiss Post's microsite about all things writing. In 2020, this campaign was particularly successful.
Personal letters and cards make words palpable. They convey thoughts and moods, elicit happiness and create bonds. To encourage people to write, Swiss Post came up with a special offer in 2020: it sent out three pre-franked cards with appetizing pictures of a fresh ice cream to 150,000 customers.  And the special touch? Each had a smell – one chocolate, one vanilla, one orange. A fourth card encouraged people to try out the SMS postage stamp.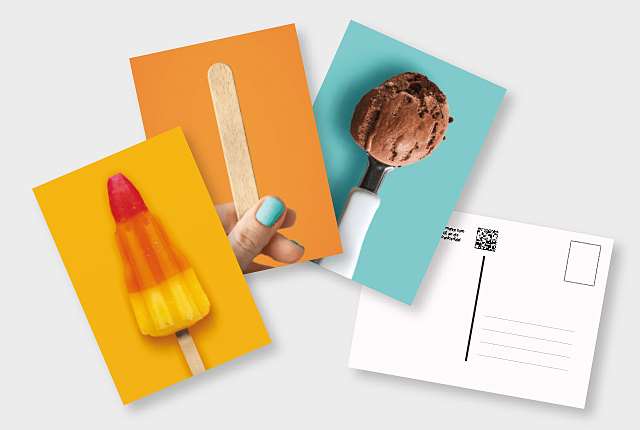 Anyone looking to surprise even more people with a card greeting could order additional sets on the microsite swisspost.ch/write. Cards were also distributed in restaurants and cafés in Zurich and Bern. The response to the campaign exceeded all previous years: within approximately two months, more than 27,000 cards were sent – up 27 percent on the previous year. 
What words should you use to congratulate someone on a wedding? How can a child make their birthday invitation original? On our microsite, you can find inspiration and information on everything you need to know about writing letters and cards – and ideas for the right stamps to go with them.
More information