COVID-19 stamp: a resounding success
With its "COVID-19 Solidarity" stamp, Swiss Post has been sending out a message of solidarity and trust since 6 April 2020. The individual stamp costs five francs and is available as a 10-stamp sheet for 50 francs. Swiss Post is bearing the cost of the stamps' face value.
Half of all proceeds go to Swiss Solidarity, and half to the Swiss Red Cross. The charities are using the funds to support initiatives such as delivery services or transport and respite services for at-risk groups and families, and soup kitchen projects.
2
.
8
million
francs were generated from sales of the COVID‑19 stamp in 2020.
Swiss Post customers showed tremendous solidarity: by the end of 2020, proceeds of 2.8 million francs had been generated. 560,000 stamps made their way across Switzerland on envelopes, highlighting the spirit of togetherness from Geneva to St. Gallen and from Chiasso to Basel.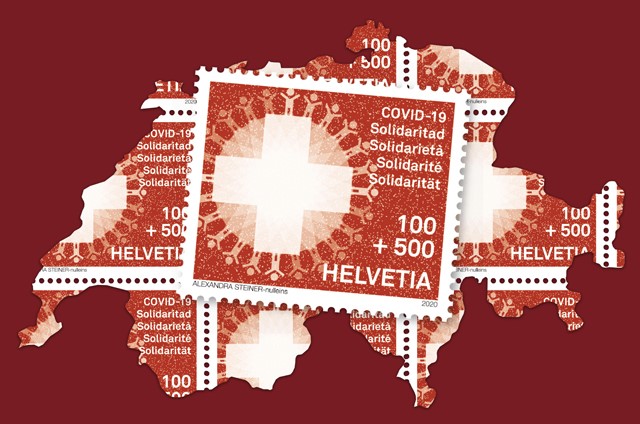 "Featuring Switzerland in the middle of a shining globe, the stamp also symbolizes the solidarity shown during the pandemic," explains Alexandra Steiner from the Nulleins communication design studio in Bern, which created the stamp. The motif was created in just six days: several graphic designers worked on the stamp, each from home – together but distanced.