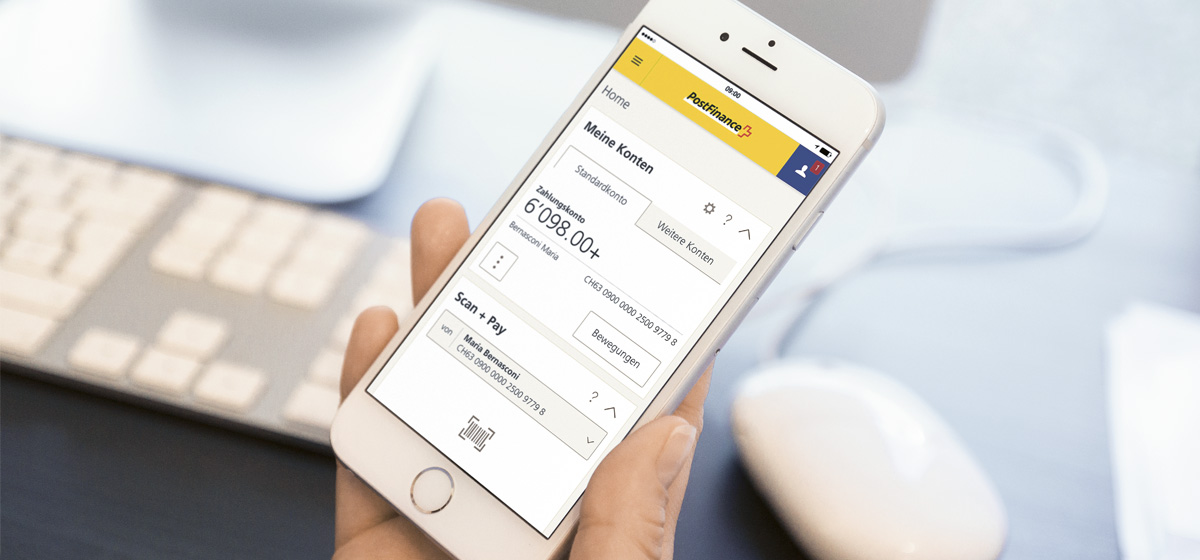 PostFinance App
The mobile all-rounder for PostFinance customers
Your account is always with you, wherever you are. The PostFinance App offers all the important functions in e-finance, knows the market prices and enables securities trading on the move. Especially handy is the fast service feature, which can be used to quickly and easily transfer money to any contact.
"Separately or together?" asks the waiter. Blerim answers quickly and pays for the whole lunch, including his colleague Roland's meal. Roland's not happy about it – after all, he ordered the expensive sirloin. While the waiter is still looking for change, Roland transfers the 52 francs for his meal to Blerim with the PostFinance App. All he has to do is enter the amount, select Blerim from his contacts and tap "Transfer".
Swipe, tap, tap – done
It's just as fast and easy for Roland to transfer money to a bank account, check his account balance and buy credit for iTunes, Spotify or his mobile. All these functions are listed in the fast service feature, easily accessible and completed with a few taps. Fast service can be protected either with a password or by touch ID, so it can be opened easily using the fingerprint scanner if the device is equipped with one. To be on the safe side, there's also a daily limit and a monthly limit you can choose yourself.
Full functionality, easy to use
The whole PostFinance App is accessible to all and extremely user friendly in its design. The same goes for e-finance, integrated into the app and following in the footsteps of its big brother: in 2015, the desktop version of e-finance won a "Best of Swiss Web" award for usability. Mobile e-finance handles the payment of bills particularly well: with the Scan + Pay function, the phone's camera captures the inpayment slip and the invoice can be approved with just a few taps.
Also for traders and market players
PostFinance e-trading is also integrated into the app and allows mobile access to your own custody account. Functions such as Watchlist and Alarming keep traders informed about the world so they don't miss any trading opportunities. The PostFinance App also offers price information from the world's major stock exchanges, economic news and the latest exchange rates. A currency converter is also integrated. And if you do happen to need cash for any reason, the PostFinance App even knows where the nearest Postomat is.
Transferring money with the PostFinance App is as fast as handing over cash.