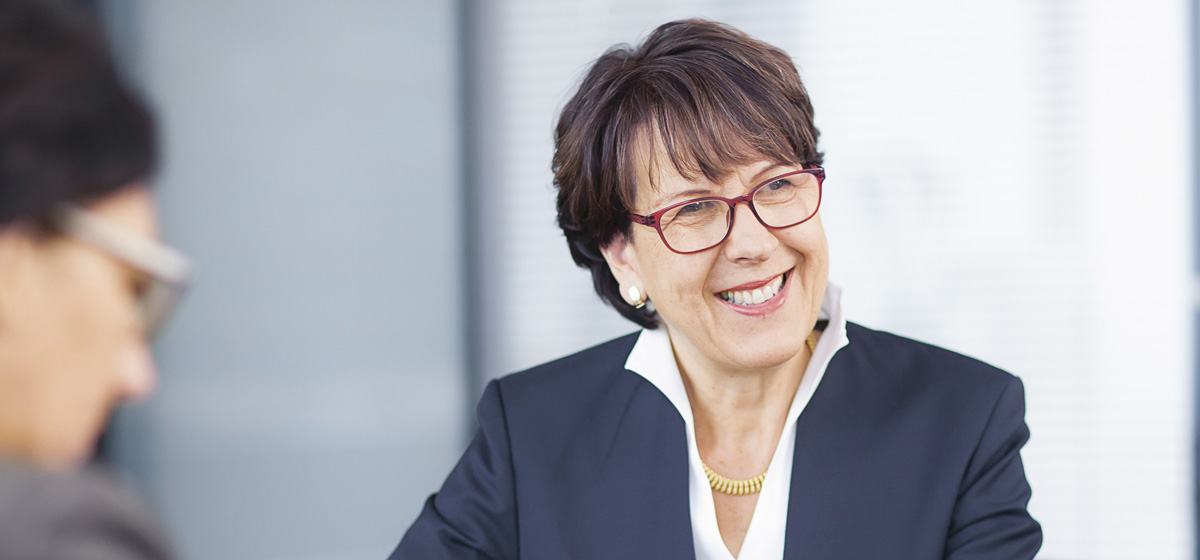 Interview
We want to make our customers' lives as easy as possible in a complex world.
Swiss Post wants to offer its customers added value and to make life easier for them. What does that mean in concrete terms?
Swiss Post wants to be close to its customers – with the right products and services at the right time and in the right place. Customers want services they can understand quickly and use as conveniently as possible. Rather than a single solution that can do everything and that has as many functions as possible, the demand today is for simplicity and intuitive use. But we cannot expect our customers to simply tell us what their actual wishes and requirements are. That's not how it works. We have to respond to their behaviour, make allowance for changes and tailor our products and services accordingly.
What does this customer proximity mean for the development of the post office network?
We need to rethink our image of the post office network and understand it in a broader sense, which is why I prefer to speak more precisely in terms of access points. In addition to the physical access points, we have also created or continued to develop a range of digital access points. I'm thinking here of the new Swiss Post website, our various apps, customer service and social media channels like Facebook and Twitter. But an important role is also played by new services such as the My Post 24 terminals, delivery of parcels in the evening and on weekends, or the electronic management of missed consignments. At the same time, we are of course also continuing to develop the traditional post offices. In future, we will focus the range of third-party products available at post offices on products that are related to Swiss Post and will discontinue other services, such as the minikiosks offering sweets. And we're also testing collection and acceptance points with new partners, for example at train stations and petrol stations, and in residential areas.
Swiss Post has a new vision. Why is that needed?
The vision "Simple yet systematic – Swiss Post." provides a point of orientation right across the Group. It is our guiding star, which will show us the way into the future in the coming years. And it's ambitious: we want to offer our customers simple solutions from a single source, strengthening our core business and combining the physical and digital worlds thanks to new solutions.
What does that mean for Swiss Post customers?
We not only need to connect the digital with the physical for our customers, we also need to provide digital added value for physical products. And we don't digitize everything just because it is technically feasible. We digitize selectively, where there is a benefit to the customer.
Could you give an example?
Electronic mail and mobile chat services are becoming more and more popular and are increasingly replacing the physical letter. But some documents and processes will remain physical in the future. It is at this interface that Swiss Post can assume an important role. Today, we are already digitizing physical documents, for insurance companies and banks for example, processing the data they contain and feeding it directly into the company IT systems. In services like this, I see great opportunities for Swiss Post, because we create the flexibility for our customers that allows them to concentrate on their core business. We make their lives as easy as possible in an increasingly complex world, which generates added value.
Far from being simple, the systems behind services like these appear to be complex. Isn't that a contradiction?
Operating complex systems in order to offer simple services is a major challenge. It's easy to be complicated, but it's very challenging to always offer customers the simplest solution despite complex background processes. But of course we also need to continually optimize and simplify internal processes. For example, we digitized our own extensive archive during the move to the new headquarters. This creates space, and the information can be accessed more quickly and easily.
And who's the bigger winner with simplicity – the customer or Swiss Post?
With simplicity, we both win in the end. The customer gets useful, straightforward solutions, and if it's easier to approach customers or attract new customers, Swiss Post benefits from an increase in turnover. And with a consistent focus on real customer requirements and the optimization of internal processes, cost savings are also often possible.
Where is Swiss Post today on this path?
The challenges are considerable, but we're making good progress. We continue to develop, and we need to keep our promise to offer our customers added value and create the flexibility that allows them to focus on their core skills. Our starting point is good, and we already have some very good initial implementations that show what our new vision is aiming to achieve. I'm talking here for example about our comprehensive range of e-commerce services, about new services in the eHealth and electronic voting sectors, or digital and mobile banking, where we are playing a pioneering role.
What do you expect from your staff?
The most important assets we have on our journey are our employees. They are in contact with our customers every day. Their commitment and motivation are crucial. And what's also clear is that in order to be able to develop innovative solutions, you have to have the courage to take risks. The courage to test new solutions and, where necessary, to discard them again. This requires a culture of openness within a company. In daily business, of course, operational excellence continues to be essential: reliability, efficiency and the highest level of quality. But we also want to take the lead in new business areas. We have to be even faster and more flexible, because as the old proverb says: who dares wins! And if nothing goes wrong, you've often either not tried hard enough or you're already too late on the market.
It's not what's technically possible that counts, it's what gives the customer added value.










We are strengthening our core business and combining the physical and digital worlds thanks to new solutions.