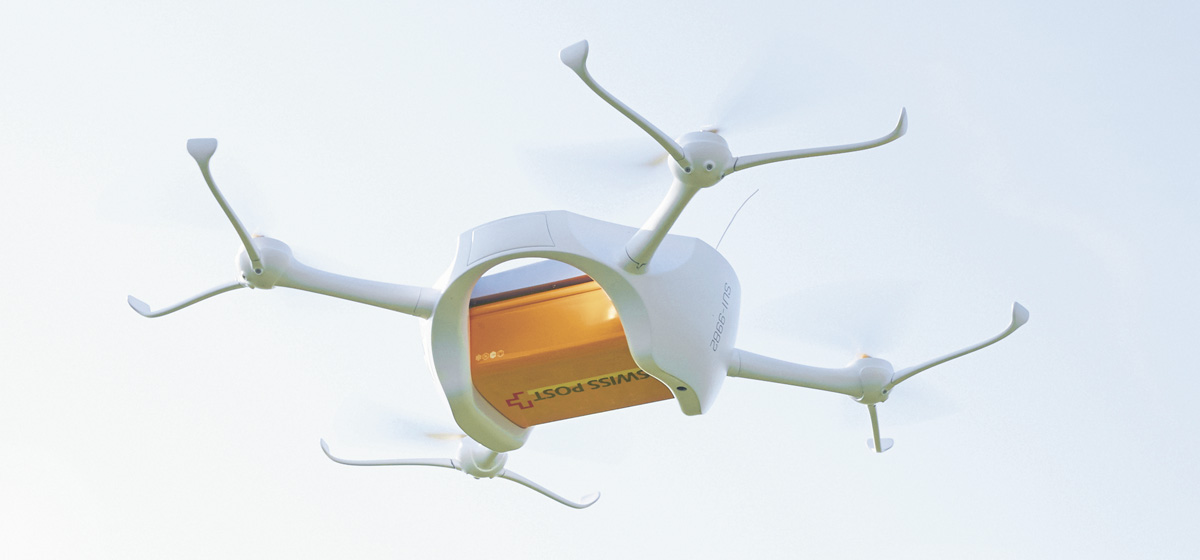 With a load of one kilo and a fully-charged battery, a drone today can manage around ten kilometres.
Drones for parcel delivery
Parcels flying through the air
Swiss Post is testing the commercial use of drones for delivering parcels in remote areas or for urgent special consignments. Widespread use may still be a long way off for now, but Swiss Post wants to actively help shape this new technological development.
Daniela T. has been to the doctor, who wants to do a blood count to be on the safe side. Daniela of course wants to get her lab results as quickly as possible. To save time, the doctor has Swiss Post transport the blood sample to the laboratory by drone. This scenario is still a long way off – but it is already within the realm of possibility. Because in early summer 2015, Swiss Post first started testing the commercial use of GPS-controlled drones – together with Swiss WorldCargo, the air freight division of Swiss International Air Lines and Californian drone manufacturer Matternet.
The beginning of an exciting new development
We don't expect to see the commercial use of drones for a few years at the earliest. In the meantime, Swiss Post wants to clarify the legal framework and commercial opportunities, in addition to continuing its technical tests. But the areas in which drones might be used are already becoming apparent: in emergencies, to deliver supplies to places cut off from the outside world after a storm. Or, as in the example of Daniela T., to transport high priority special consignments. "We are standing on the cusp of an exciting development at a point in time when all development opportunities are still open," says Janick Mischler, project manager at Swiss Post.
Before we see parcel drones actually flying through the air, there are a number of technical hurdles to be overcome. Today, the test drone can carry a one-kilogram load more than ten kilometres with a single battery charge. "The future will bring technological advances," says Andrea Marrazzo, project manager at Swiss Post. "But instead of just waiting for that progress, we prefer to actively help shape technical development with our tests."
Dieter Bambauer, Head of PostLogistics and Member of Executive Management
How does the drone project fit in with Swiss Post's strategy?
Online retail is growing, and our customers want to receive their parcels when and where it suits them. This is a requirement we need to consider.
What are Swiss Post's objectives with drone testing?
Swiss Post has exploited new technologies for 160 years, from the coach to the hydrogen Postbus. The GPS-guided parcel drone is a next step in this process of development. With the tests, Swiss Post is positioning itself at the very forefront of this pioneering technology for logistics.
Will drones compete with our traditional business?
That's unrealistic. Swiss Post processes 500,000 parcels per day, or a million during the Christmas season. Our airspace is already congested, so the idea of delivering that volume of parcels with drones is unthinkable. Drone technology will not replace traditional parcel delivery, it will complement it.