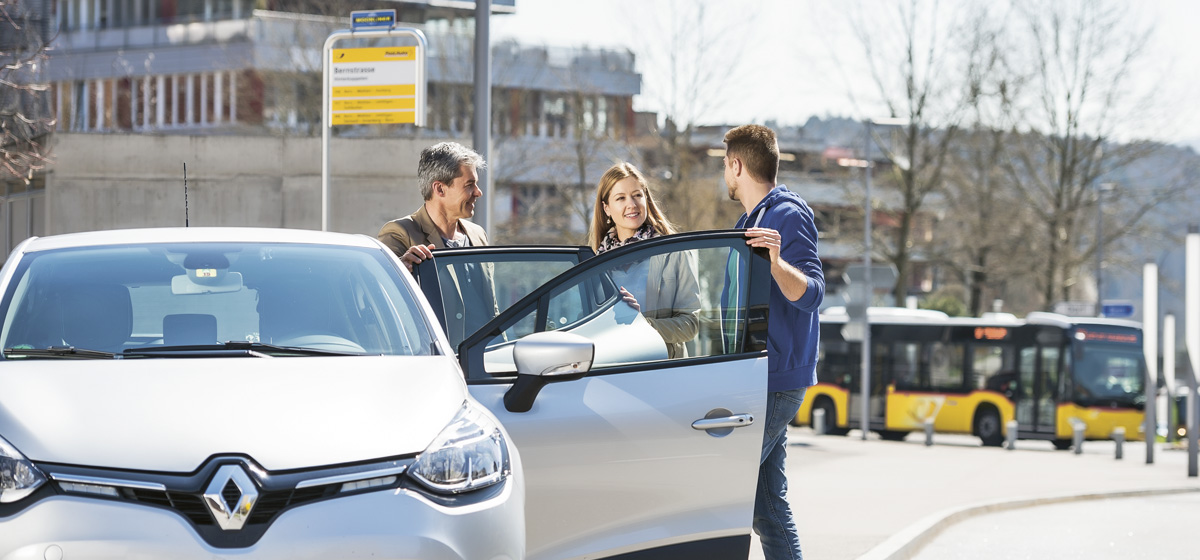 PubliRide mobility sharing network
Carpooling – preventing traffic congestion
The idea is simple and compelling: when a person shares a car instead of getting behind the wheel themselves, there's one less car on the roads. At PostBus, this solution to easing traffic congestion is called PubliRide.
After work, Kurt gets out of Sabine's car and continues his journey home two stops further on the bus. Thanks to PubliRide, he was able to share the car with Sabine, whose commute is similar and who had posted her journey on the app and the online platform. Handy for him, enjoyable for both.
PubliRide is a PostBus product for municipalities and companies that want to encourage carpooling. "We combine public and private transport into a third way, with which customers can choose the appropriate means of transport at any time," says Anja Benesch, Mobility Management project manager at PostBus. That's why PubliRide users find suggested public transport connections for the journey they have selected. And by the same token, when public transport users look up a timetable in the PostBus App, it also shows matching sharing offers.
Motorists and the general public also benefit from the mobility sharing network: PubliRide drivers have some company on their journey and can also receive a small fee, assuming they even want it. And congestion on the roads is eased for other road users. As in Baden, where PubliRide is to be used to ease congestion during roadworks at one of the busiest intersections in Switzerland. The pilot project was launched shortly before the start of work. Other pilot projects are under way in the municipality of Blauen in the canton of Basel-Land and in two regions of Valais, where PostBus is working to extend mobility services for customers beyond its own route network.
The more people travel together, the more room there is on the roads and in car parks.
Anja Benesch, Mobility Management project manager