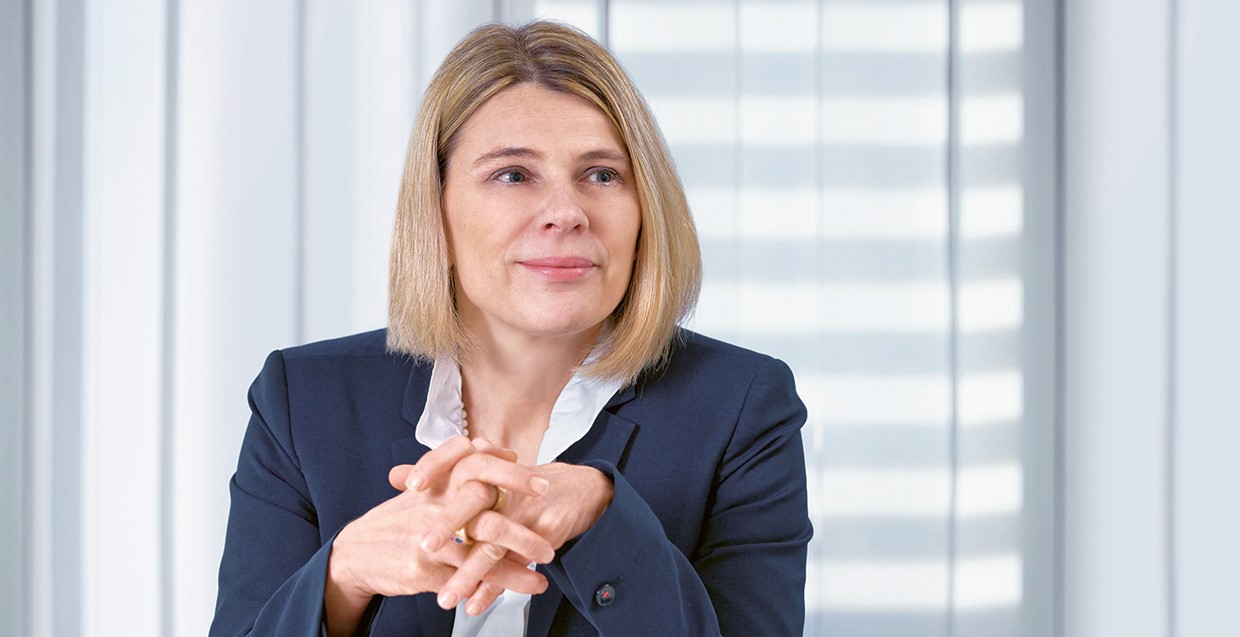 Valérie Schelker Head of Human Resources and Member of Executive Management
Employer attractiveness is increasingly becoming an issue of vital importance.
Interview
Swiss Post staff – the key to success
Swiss Post is changing. New services are also changing approaches to work, and employees are confronted with new requirements. Human Resources supports the different units and creates development services for managers and employees.
In terms of human resources, what is our current position?
With more than 50,000 employees in Switzerland, we are fundamentally in a good position.  Swiss Post places great value on basic and advanced training for staff. We have a total of 2,001 apprentices in 16 different professions and offer a wide range of training opportunities.
Our current employee survey shows positive, stable figures when viewed at Group level, albeit with differing trends in the various units. Employees identify strongly with Swiss Post, as is reflected in the high score achieved for the strategic target "commitment". However, the turbulence this year has had an impact on employees' confidence in management and our strategy. There is a need for action in this area – and we are working on it.
Looking to the future, what challenges do we face?
We are facing a structural change caused by digitization and automation. There are a number of studies looking into the probabilities of automation in the fields in which we operate. These studies predict that 68 percent of the work performed by parcel and letter carriers could be automated. Whether and when this becomes reality is difficult to gauge. We also know that automation and digitization are creating new jobs. But these jobs require special skills or knowledge. We are therefore continuing to develop our employees and focusing on offering relevant apprenticeships. With every step that we take towards automation, we will of course always bear our responsibility in mind.
What do these forecasts mean for us?
For us, the dimensions of organization, occupational profiles, culture and leadership, and employer attractiveness are of particular importance.
With regard to the dimension of organization, we are guided above all by the principle of "Structure follows business", and we support the individual organizational units accordingly in their ongoing development.
Looking at the dimension of occupational profiles, and thus performance, there is a need for action with regard to digitization and automation. We will need to create the right development opportunities to ensure that employees can meet new requirements.
The dimension of culture and leadership is a major concern for us. "Culture" encompasses our shared fundamental beliefs and values. These cannot be prescribed, they must be exemplified. That's why we regard it as crucial that management staff lead by example and that we have a common understanding of leadership.
The dimension of employer attractiveness is increasingly becoming an issue of vital importance to Swiss Post. Our range of services, our flexibility, our culture and the company's image all play important roles in this. A glance at the development of mobile workplaces shows an exciting trend that we cannot ignore. Mobile work practices are now possible for 50 percent of employees across Switzerland. While the potential at Swiss Post is lower than that of the economy as a whole, we also need to create more flexibility for mobile work for employees involved in knowledge-based activities. This has a great deal to do with personal responsibility and trust – so, again, with culture. And for us as a company, cultural development is a key factor in ensuring that our employees are prepared for the challenges of the future.