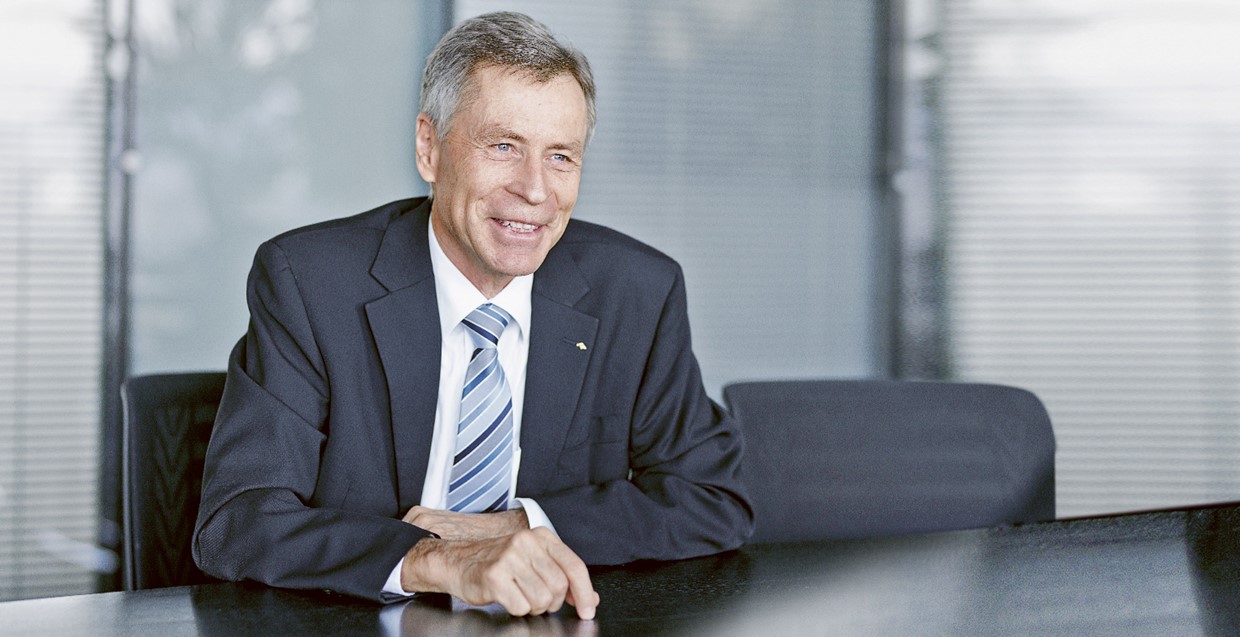 We know the markets we operate in very well.
Swiss Post will continue to be able to finance the universal service from its own resources.
Despite the challenging environment, many units achieved very good results.
To ensure positive development, investment is essential.
with Ulrich Hurni, CEO a. i.
Interview
Swiss Post Ltd's Group result for 2018 is down year-on-year. The result should nevertheless be seen as positive, and Swiss Post is looking to the future with confidence. In this interview, CEO Ulrich Hurni explains why.
How would you summarize the 2018 Group result?
First of all, it is clear that the Group result for 2018 is significantly lower than in the previous year. This is mainly due to dwindling revenues at PostFinance and the repayments made by PostBus. Aside from these two business units, all other units performed better than in the previous year.
Was this result expected?
We know the markets we operate in very well, so the downward trend is of course no surprise to us. Factors such as declining letter volumes, the pressure on prices affecting all units and persistently low interest rates – an extremely difficult factor influencing the PostFinance result – are becoming more pronounced. This means that the challenges will remain the same for the coming financial year.
Which business units developed partic­ularly positively in 2018, and what were the reasons for this?
Despite the challenging environment, many units achieved very good results. The parcel market is booming, and the good result achieved at PostLogistics reflects this. With Swiss Post Solutions (SPS), we are also on track in international business. The path chosen at PostalNetwork is producing positive results. And earnings at PostMail also rose year-on-year.
At PostMail, it is striking that while volumes are declining, the result is improving. How do you explain that?
In Switzerland, the decline in the volume of letter mail is less dramatic than in other European countries. Nevertheless, we have consis­tently adapted our processes in line with lower volumes to become more cost-efficient. In addition, we continue to benefit from automatic sequencing, which is our system for automatically sorting a substantial proportion of consignments in the order of household letter boxes, saving time during deliveries.
Which business units developed negatively in 2018, and what were the reasons for this?
As a result of the events at PostBus, we committed to repaying the funds received unlawfully over several years in full, and to repaying them this year. That has had an impact on the annual result. PostFinance also saw a sharp decline in profit. Given the interest rate situation, this was foreseeable.
But even though the Group result is down year-on-year, it can still be considered positive. As a result of the functional management programme, overhead costs were also significantly reduced. We know the reasons for the result, and we also know that we have achieved very good results in many units because of our employees' high level of commitment. I would very much like to thank our staff members for that.
What impact does the PostFinance result have on the Group? Without high rev­enues at PostFinance, does Swiss Post still have enough money to finance the universal service internally?
Swiss Post will continue to be able to finance the universal service from its own resources. However, the distribution of a dividend from Swiss Post to the Confederation as owner will probably no longer be possible in the form it has taken until now. As far as PostFinance is concerned, the Group cannot expect to pay a dividend in the near future. This is due not only to low earnings, but also to the fact that PostFinance is required to build up additional equity owing to its classification as a systemically important bank.
Would a lifting of the ban on issuing its own loans and mortgages be enough to secure PostFinance's business model in the long term?
We do of course welcome the Federal Council's policy decision signalling its desire to lift the ban. It would allow us to expand our activities in the financial market accordingly. This is important for the future of PostFinance and Swiss Post. But it is important to remain realistic. There is a long way to go before any potential lifting of the ban comes to fruition.
In 2016, Swiss Post defined its goals and strategy for the 2017–2020 period. Do changes have to be made now, halfway through the strategy period?
We know our markets and their trends. This was already the case in 2016, when the goals and strategy for the 2017–2020 period were drawn up. The current strategy therefore remains in place. However, the strategy is re­viewed annually by each of the units, by Executive Management and by the Board of Directors. And adjustments are of course made wherever necessary. In September 2017, for example, Executive Management and the Board of Directors decided that daily newspaper subscriptions in areas without early-morning delivery should be delivered by noon. For us, the strategy is our framework. But sometimes fine-tuning is necessary, and we of course ensure that this is done.
I believe it's fair to say that Swiss Post is doing well: it tackles challenges through consistent optimization, adaptation in the core business and the development of new growth areas.
What are the factors required to ensure Swiss Post's long-term success?
Declining volumes, pressure on prices and low interest rates will continue to be challenges for us. For PostFinance, lifting the prohibition on lending will therefore be of the utmost importance. But there is a need for change at PostMail, too. The last adjustment to letter prices was in 2004, so an increase is inevitable in the coming years. In terms of the overall picture, there now needs to be further debate. That debate must also include an open dialogue with policymakers and the owner about the regulatory framework. This will allow Swiss Post to continue to be here for everyone and provide customers with services of its usual high standard. A high-quality internally financed universal service must be in everyone's interest.
How and where is investment required, and how will Swiss Post finance it?
Investment is required to ensure positive development. We expect that parcel volumes will continue to rise. That means we will have to build more sub-centers. In the foreseeable future, the systems in place at the existing parcel centers will also have to be replaced. Post­Finance will continue its development as a digital powerhouse with appropriate investment in new electronic services. Swiss Post also needs to grow, and will therefore invest in larger acquisitions. It is important for us to be able to finance these investments from our own resources – and we can.
In terms of acquisitions, which markets stand out in particular?
Generally speaking, the only acquisitions that are of interest to us are those that bring strate­gic added value for Swiss Post, whether that is from a substantial strengthening of our core business or knowledge transfer through specialized and innovative companies. For us, acquisitions are about strengthening and developing our core business – namely, financial services, logistics and the communication market. We will therefore continue to operate in these markets, as we already know them so well.
Are forecasts for the 2019 financial year possible at this point in time?
We are in a good position. We are extremely familiar with the markets we operate in, and we are on track with our strategy for the 2017–2020 period. Nevertheless, pressure on the Group result will continue to grow, and we will need to pursue our strategy consistently.