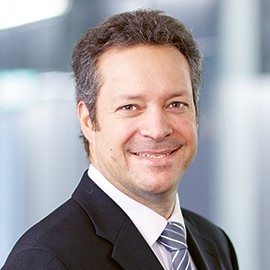 Michel Franzelli
Head of Strategy & Transformation
How is Swiss Post progressing, halfway through the 2020 strategy period?
Swiss Post is developing according to plan. The progress made in the intensive transformation of the PostFinance and Postal­Network Group units is encouraging. The growth in the parcel business and the decline in letter volumes are well balanced. Swiss Post provides quality and performance at a high level, as is also evident from international comparisons.
What makes you particularly proud?
Our employees are very committed, and customer confidence in Swiss Post is stable. During phases of transformation, you feel that very strongly. I take pride in it every single day. Also, our international document business is growing every year. That is a major success for Swiss Post.
Where do you need to catch up?
In the mobility sector. After stabilizing the business, we will talk to the owner and stakeholders about the future strategy.
I am proud that Swiss
Post is managing to achieve a good balance between growth, transformation and
efficiency.
Michel Franzelli
Head of Strategy & Transformation
2020 strategy
We are transforming Swiss Post
New digital and international competitors are forcing their way onto the market. Customers expect individual and flexible solutions – around the clock, both physical and digital. Changing letter volumes, competition in the parcel market and the low interest rate situation in the banking environment are still having their effect on Swiss Post. Through its 2020 strategy, Swiss Post is transforming its business areas in each of these dynamic markets.
The 2020 transformation strategy is based on our vision: "Simple yet systematic – Swiss Post." But on the path to achieving these goals, there are a number of special challenges to be met that are almost unique in Swiss Post's history.
Challenges
To take advantage of future opportunities, Swiss Post must overcome three fundamental challenges:
New digital competitors
The Internet has led to digital competitors with new business models entering Swiss Post's markets and competing with its core business. Swiss Post must therefore offer physically and digitally integrated services and access points, and continue to develop its expertise in the digital world (for example, in online payments and smart data).
Income and margins under pressure
The growth in e-commerce is intensifying the pressure on prices in the logistics market. At the same time, letter volumes are in decline and demand for over-the-counter services is falling. The financial markets are suffering from the low interest rate environment. Swiss Post must continue to push forward with its strategies in the core markets, both in Switzerland and abroad.
Conflict between regulatory and political demands
Regulatory requirements and political initiatives can change market conditions and influence Swiss Post's transformation. Swiss Post will achieve its transformation in dialogue with regulators and the public.
Group goals
To implement the transformation, Swiss Post has set Group-wide goals to be achieved by 2020:
Customer focus
Swiss Post is working to focus more closely on the customer, and its efforts are measured by two indicators:
–Customer satisfaction: attain at least 80 points (scale of 0 – 100)
–Customer proximity: offer more than 4,200 access points
Market
Swiss Post wants to generate 10 percent of new revenue by 2020. It is therefore looking to expand in its core business and in seven key growth and business development areas. This is not something that can be taken for granted at a time when new challenges are arising – such as digital companies increasingly opting to handle their own logistics. Swiss Post must therefore continue to develop its services and access points systematically – by combining physical and digital products and services, for instance.
Efficiency
Swiss Post is optimizing its processes. As well as implementing traditional measures to increase efficiency in its different units, it is seeking to achieve around 5 percent of savings at Group level by 2020.
Employees
Employees are crucial to business success. Swiss Post relies on staff commitment and wants to maintain a very high employee commitment score of 80 points (scale of 0 – 100).
Corporate responsibility
Swiss Post is aiming to improve its CO2 efficiency by at least 25 percent by 2020 compared to the base year 2010.
Finances
If Swiss Post can impress its customers, increase its competitive edge and optimize its internal processes, it can generate an operating result of 600 million francs in the 2020 strategy period.
Strategic thrusts
To meet its goals, Swiss Post is pursuing four strategic thrusts:
Transformation
Changing customer habits require ongoing development of the core business in order to continue creating a positive customer experience. The focus is also on the physical-digital merger and use of data, as well as solutions for business customers.
Growth
Growth from the core business and targeted, innovative development areas are the primary factors that will secure the future of Swiss Post. These include e-commerce and cross-channel communication.
Optimization
Interest rates, margins and volumes are coming under increasing pressure. Swiss Post is therefore increasing its cost efficiency. In Procurement, for example, this is achieved through a functional management model and optimized IT.
Regulatory framework
As a closely regulated company, Swiss Post finds itself trying to reconcile the conflicting demands of the market and politics. It wants to fulfil its universal service obligation in such a way that it reflects changing customer requirements. To do so, it requires entrepreneuri­al freedom. In dialogue with the regulators, Swiss Post is committed to creating the greatest possible benefit for its customers.
Our vision: "Simple yet systematic – Swiss Post."
"We connect the physical and digital worlds, setting new standards with our products and integrated solutions. We make it easier for our customers to operate in today's complex environment, giving them greater scope to succeed."