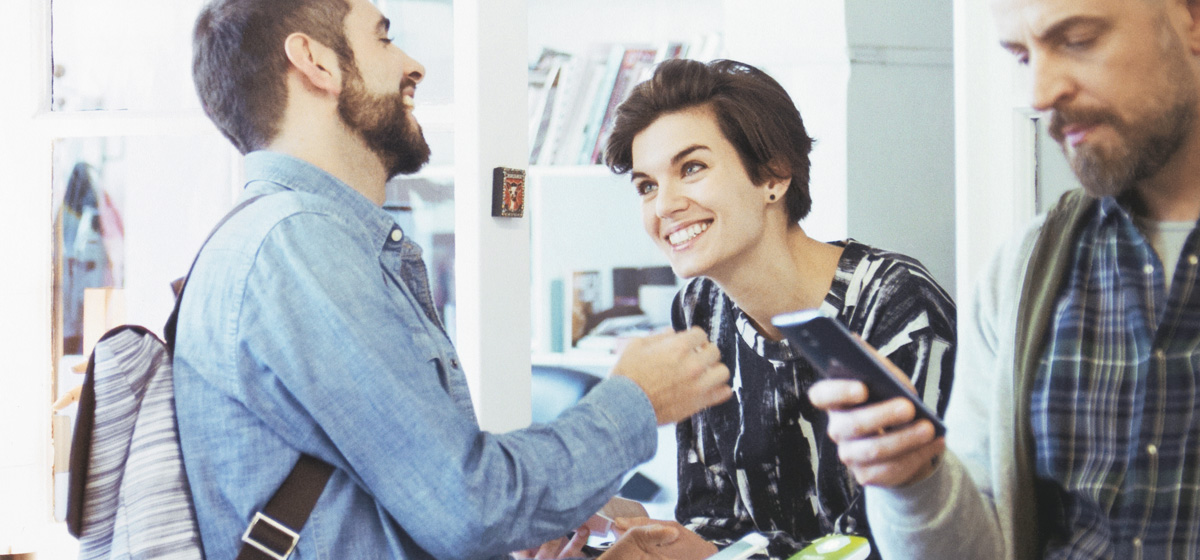 TWINT
The digital wallet for Switzerland
PostFinance subsidiary TWINT has developed a payment app that works with any bank account and any smartphone. Users can pay quickly and easily, for example at Coop, on the Internet and in trendy shops they've discovered thanks to TWINT.
Marina is standing happily at the checkout of a boutique called TOKU in Berne's old town. In her hand, she's holding a coat by Swiss label La Première. Marina pays for the coat with TWINT, the cashless payment and shopping app. All she has to do is hold her smartphone in the vicinity of the TWINT beacon and confirm the amount in the app, and the exclusive garment is already hers.
Open for all postal and bank accounts
TWINT today works on the prepaid principle and can be topped up in many different ways. PostFinance customers can enter their postal account and then top up TWINT directly through the app. It also works with bank accounts: customers of partner banks can connect their bank account within minutes, after which they can top up TWINT. Other bank customers top up TWINT by direct debit or bank transfer. And if you want, you can buy a prepaid card at Coop or a post office and top up TWINT immediately. In addition, TWINT customers can also send money to each other in real time.
An app with no limitations
TWINT works with virtually any smartphone, because the beacon is a small Bluetooth transmitter. TWINT deliberately relies on Bluetooth and not, like many other providers, on NFC (near field communication) transmission technology. While NFC cannot be used with the iPhone, Bluetooth has long been an open standard for both iOS and Android. If you shop online, you can pay quickly and conveniently with TWINT in online shops. All you have to do is scan a QR code from the screen and confirm the amount on your smartphone. TWINT also works with vending machines and in apps.
Benefits for businesses and customers
Shops and restaurants that offer payment by TWINT benefit from inexpensive transaction costs. But from summer 2016, they'll also be able to attract new customers and increase sales by offering coupons and discounts via TWINT. And the benefits of TWINT for customers: the app lists special offers and actively draws attention to shopping opportunities, such as the new sushi bar the other users seem to like so much. TWINT was launched in November 2015. Since then, Marina has discovered many new shops. She didn't know TOKU beforehand either.
With TWINT, payment is fast, easy and cashless.
Thierry Kneissler, CEO of TWINT AG