Parcels and registered letters
Even more flexible and convenient
In the era of online retail, customers want to receive their parcels flexibly and easily. Swiss Post is responding to these requirements – with new and convenient services.
Swiss Post wants to deliver parcels where and when it suits its customers, and is therefore continually expanding its range of services.
More convenience for postal customers
During the week, many customers are not at home when parcel carriers come by on their delivery rounds. That's why Swiss Post has been delivering parcels in the evening or on Saturday since 2013. Now Swiss Post is also testing delivery on Sunday, to offer even more convenience: a pilot project with Nespresso and coop@home has been under way in Zurich, Basel, Geneva and Lausanne since October 2015. Deliveries are handled by external transport partners who are allowed to work on Sunday. And with our latest new service, registered letters are now also delivered by 9 a.m. on Saturday.
More services at My Post 24 terminals
They're already available in shopping centers and public buildings: the My Post 24 terminals. But Swiss Post wants to expand the network and is currently installing 50 to 60 terminals in SBB train stations. The terminals can also be used as a locker: with a locker barcode, you can deposit or collect your personal goods – or have someone else do it. In addition, registered letters can now also be posted or collected at the terminals. To make them even easier to use, customers now receive a QR code by e-mail or MMS for parcels or registered letters that are ready for collection. When the code is scanned, the terminal releases the consignment.
Receive missed consignments at the office
Customers who have missed their parcels or registered letters can request a second attempted delivery online. Swiss Post delivers parcels to the workplace, a chosen address or a My Post 24 terminal. To ensure that the collection period is never forgotten, there is now a handy new reminder function by SMS or e-mail. Customers who are often away from home can also collect their consignments at one of the 2,400 PickPost points. PickPost consignments can now be collected and parcel returns dropped off at all post offices and all postal agencies, as well as at numerous SBB and BLS railway stations.
https://www.post.ch/en/private/a-z-of-subjects/receive-consignment/practical-tips-for-recipients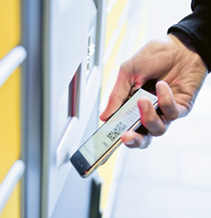 1 _
Open sesame: simply open the QR code on your smartphone, hold it up to the reader and take your consignment.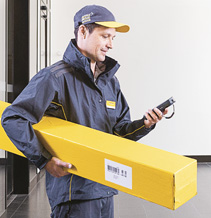 2 _
Missed a consignment at home? Swiss Post also delivers parcels to alternative addresses, such as an office.