Training and promotion opportunities
Getting ahead dynamically: unconventional careers at Swiss Post
Swiss Post makes a serious investment in basic and advanced training for its employees: around 62,300 people from 142 countries in well over 100 different occupations. With their commitment and fresh ideas, they drive Swiss Post forward.
At Swiss Post, potential managerial and specialist staff are prepared for their future responsibilities in a targeted manner. A recent general overview of educational activities at Swiss Post has shown that around 1,300 internal Swiss Post basic and advanced training courses are taken each year throughout Switzerland – from face-to-face training to e-learning courses. People who show initiative and want to complete external basic and advanced training courses are generously supported. "Committed employees make an essential contribution to the success of the company and are extremely loyal to their employer," says Bruno Schumacher, Head of Advanced Training at Swiss Post. A good example of this is Sarah Nünlist.
Sarah Nünlist, you're Head of Online PR & Social Media. You started with Swiss Post back in 2008 – did this job even exist then?
No, it wasn't created until 2011 – and I'm the first person to assume the role: real pioneering work, but that suits me just fine. I'm fascinated by everything new, digital. That's why I've always continued my training in this direction.
The way I got my start at Swiss Post was anything but conventional: after graduating from business secondary school, I spent two years abroad. When I got back to Switzerland, I worked as a freelance journalist and published a magazine. During that period, I found myself doing more and more PR for companies, eventually also as communications manager at the then Service unit at InfraPost.
How did your career develop?
Initially, I trained as a PR specialist. The course was supported financially by Swiss Post. Then I switched jobs within Swiss Post. My new role was to develop the whole area of social media: what do we want to achieve with our presence on Facebook, Twitter or Instagram? How do we implement and follow through on whole campaigns? To set my social media expertise in a broader context, compare notes with like-minded specialists and find inspiration in best-practice examples from other companies, I completed a Master of Advanced Studies in Digital Business (MAS) at the HWZ University of Applied Sciences in Business Administration Zurich. Again, I was generously supported by Swiss Post.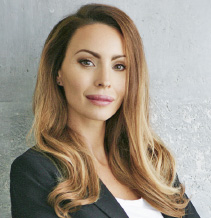 Sarah Nünlist, Head of Online PR & Social Media