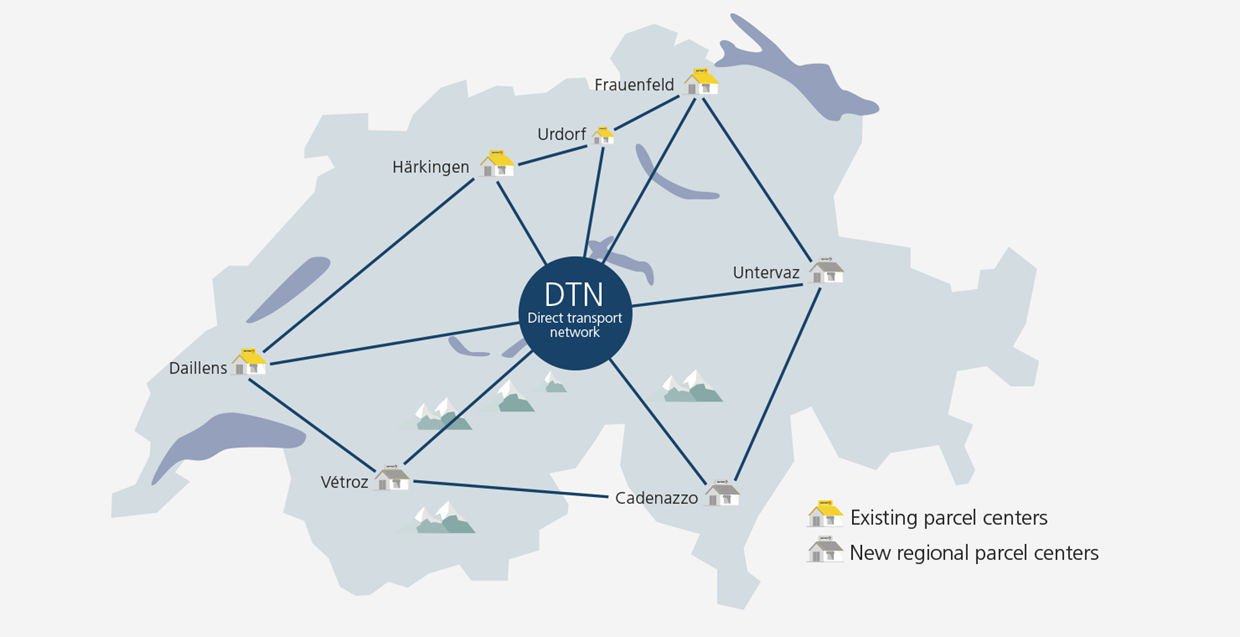 Starting in 2020, the new regional parcel centers in Cadenazzo, Vétroz and Untervaz will ease the pressure on the three existing parcel centers in Härkingen, Daillens and Frauenfeld.
Regional parcel centers
More direct routes for parcels
Swiss Post is gearing up for the future of parcel processing: by 2020, it will invest more than 150 million francs in the construction of three new regional parcel centers, responding to the growth in the sector and rising demand for fast shipments.
Online retail is growing strongly, and so in turn are parcel volumes: in 2008, Swiss Post delivered just 104 million parcels. In 2018, this figure had risen to 138 million, and the growth is set to continue. At the same time, the proportion of parcels delivered by the following day (Priority) has been increasing markedly for several years. Swiss Post identified these trends early and responded by expanding its three large parcel centers, Daillens (Vaud), Härkingen (Solothurn) and Frauenfeld (Thurgau) between 2014 and 2016. With the resulting 25% increase in sorting capacity, the growing volumes can be managed until 2020.
More direct routes
For the growth expected after 2020, Swiss Post is taking another step: building three new regional parcel centers in Ticino (Cadenazzo), Valais (Vétroz) and Graubünden (Untervaz). From 2020 onwards, these new facilities will ease the pressure at the three major parcel centers. They will be linked to each other and to the major centers by a direct transport network. Parcels which are posted in each of these regions and are addressed to recipients in the same region will in future be sorted locally. This means they will no longer have to pass through the major parcel centers, as is the case at present. Thanks to the shorter transport routes, business customers will be able to post parcels later in the day. In addition, strain on Switzerland's transport infrastructure will be eased.
Value added for the regions
By partially transferring parcel logistics to the different regions, Swiss Post is securing jobs in those locations and contributing to an increase in value added. And sustainability has been made a priority: photovoltaic systems will be installed at all new centers. Additional parcel centers in other regions may follow in the coming years, although no decision has yet been taken.
Increasing energy efficiency
For new buildings and modernization projects, Swiss Post is committed to the integrated and sustainable DGNB construction standard as adapted for Switzerland. It dispenses with the use of fossil fuels in all new buildings and replacement heat generation systems. In some cases, fossil fuel heaters are replaced before the end of their life for environmental reasons. Swiss Post is also making increased use of LEDs: PostLogistics is currently considering replacing the existing lighting at its distribution bases with intelligent LED lighting based on building occupation and the amount of daylight.