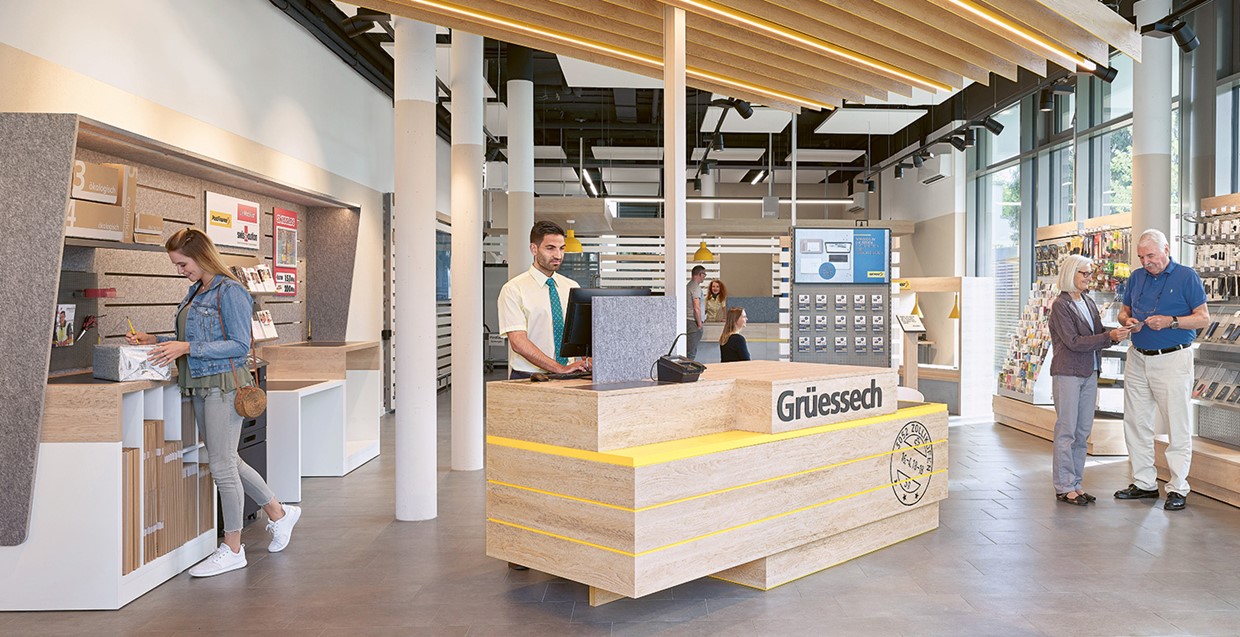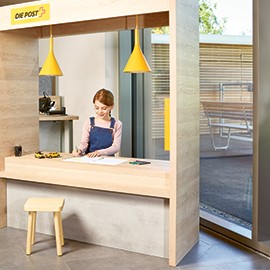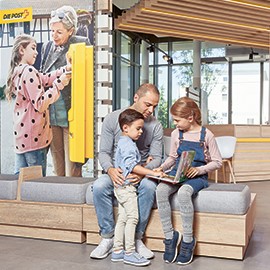 We help our customers to find their way in the digital world.
Thomas Baur
Head of PostalNetwork and Member of Executive Management
Self-operated branches
Branches are still important
Swiss Post wants to increase the levels of personal advice available to customers at its self-operated branches. To create the right environment for this, around 300 branches will be completely or partially redesigned, converted and renovated as part of an initial development project over the next four years.
Social trends such as growing digitization and increasingly mobile customers do not go unnoticed at the branches. Swiss Post is clearly committed to a network of self-operated branches and is therefore developing them consistently. It makes every effort to adapt to changing customer habits and to meet customers' everyday requirements with its digital products and services.
"Personal customer contact is Swiss Post's strength, and in particular the strength of its self-operated branches, and this will not change," says Thomas Baur, Head of PostalNetwork. "That's why we want to create a more pleasant environment for discussions in our branches and make them more suitable for consultation." In an increasingly digitized world, personal contact is becoming increasingly valuable: it helps people find their way. This is particularly true for people who have difficulty getting to grips with the new options by themselves. "Our branches are the place where we can offer our customers both physical and digital solutions, and where our well-trained employees can showcase the diversity of Swiss Post's services and products," says Baur.
Open, bright, pleasant
To create the ideal environment for advising customers, the branches are being renovated and modernized. Some branches will be completely converted and modernized, others partially. Their energy efficiency will also be optimized. The counters are largely open and are complemented by an advice counter, a comprehensive self-service and information area, and various other themed areas.
At the advice counter, employees explain the products to customers and show them how to conduct their postal transactions efficiently at any time of day, even away from the branch – be it by mobile app, on the Internet or at a My Post 24 terminal.
In the self-service area, customers can take care of their postal transactions quickly, while the themed areas offer interesting information about Swiss Post's many and varied services. In some redesigned branches, the youngest customers will find a play area with a children's post office produced by social institution Argo, where they can entertain themselves while their parents seek advice on services.
A clear commitment
In 2017, Swiss Post tested the new design concept for self-operated branches in Interlaken. Since then, it has been optimized and implemented in other branches. Some 300 additional locations are scheduled for modernization by 2022. Swiss Post is investing around 40 million francs in these efforts, thus sending a clear signal: self-operated branches will continue to be important in the future.
New services – easy and convenient
Customers can now order extracts from the debt collection register at counters in all self-­operated branches. At nine selected branches, Swiss Post is also testing a self-service solution for paying bills with the Post­Finance Card or a debit card. Another service currently in the test phase is a mailbox which is located in the self-service area of the branch and is designed to make sending pre-franked parcels easier.