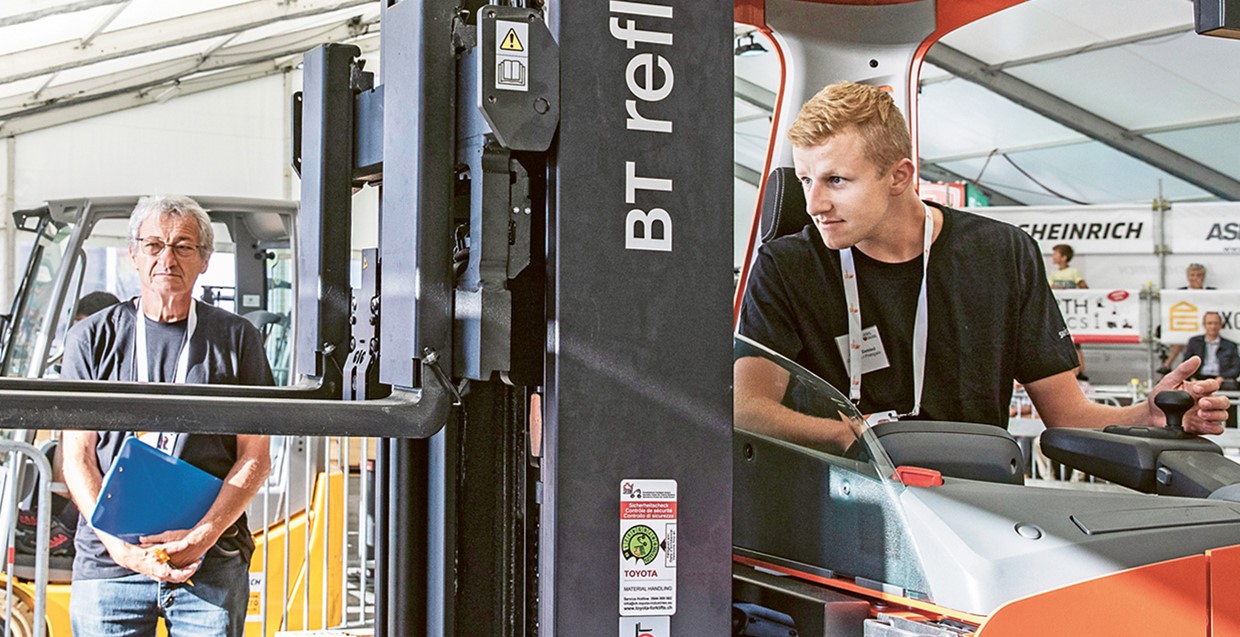 To handle a forklift truck, you need a good eye and a steady sense of proportion.
SwissSkills
Big-time young professionals
With 2,001 apprenticeships available in 16 occupations, Swiss Post is one of the biggest training companies in Switzerland. At the SwissSkills professional championships in September 2018, seven young Swiss Post talents showed what they can do.
Seven young Swiss Post talents managed to qualify for the SwissSkills 2018 professional championships in Berne, five from ICT professions and two from logistics. Pressed for time and in front of an audience, they battled against the competition, demonstrating their forklift skills or designing marketing concepts, websites and logos. And they were unanimous in their opinion: "A great event!"
Swiss Post's apprentices also showed what they're made of as volunteers at the major five-day event: at trade fair stands, they helped visitors to program the Swiss Post delivery robot, explained the drone technology and DXP electric tricycle simulator, and answered questions about their apprenticeships.
Promoting ICT training
"SwissSkills is an excellent opportunity for Swiss Post to present its attractive training opportunities to a broad public, especially in the ICT sector," says Barbara Schürmann, project manager and ICT Academy coach. Because there is a shortage of skilled workers in this area, Swiss Post has increased the number of training positions by 50 percent and, as of 2018, now offers the new "ICT Specialist" apprenticeship.  
To whet their appetite for careers in IT and mediamatics, Swiss Post, Credit Suisse, SBB and Swisscom together ran a large stand designed to show young people just how varied and exciting the possibilities in today's digital work environments are. In an area of over 600 square metres, students had the opportunity to immerse themselves in the playful world of robotics, produce live video and multimedia content or test their own ICT knowledge.
Committed to training
With 2,001 apprenticeships available in 16 different occupations, Swiss Post was again one of the biggest training companies in Switzerland in 2018. It is known in particular for the quality of its training: with 99 percent of apprentices gaining their qualifications, the success rate is very high. The non-completion rate for apprenticeship contracts is far below the Swiss average.