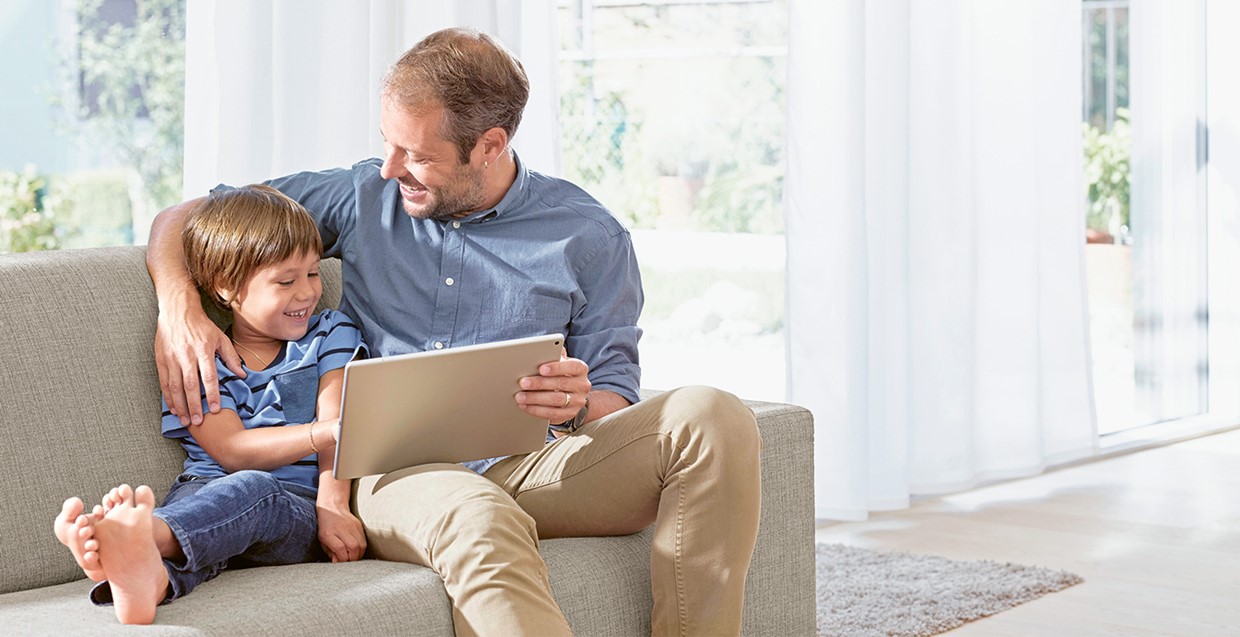 As a rule, you can achieve better returns in the long term with funds than with your savings account.
Financial investment
No one is too small to be an investor
Anyone looking to save money over the medium and long term is well served by the funds on offer from PostFinance. They allow private individuals to become investors, even with relatively small amounts of money and without a great deal of risk. There are around 50 products on offer, regularly and carefully reviewed by PostFinance in conjunction with external partners.
Marc is enjoying a day at home with his son Leon. Together, they are looking at photos of Leon as a baby and talking about his birth. Back then, Marc was already anxious to provide proper security for his offspring, including in financial matters. To give Leon a little starting capital on the road to independence later in life, he opted for a funds saving plan from PostFinance. Every three months, he pays in 100 francs. When Leon is of age, he will be able to use the money to take his driving test, and will no doubt have enough left for some travelling.
Susanne is in her mid-40s and wants to maintain her standard of living when she retires. She's a teacher, and she's been paying the maximum amount into a retirement savings account 3a for years. Recently, however, she's been taking a closer look at the topic of retire­ment provision. Her father is retired and discusses many of the financial aspects of the third phase of life with his daughter. He advises Susanne to invest her retirement capital in funds. "Your money can work for you there," he says. "Instead of just lying around dormant somewhere." Susanne decides to invest the money from her 3a account in a retirement fund. At PostFinance, she can choose from three products with different equity weightings.
These two examples illustrate that investing is not rocket science and that you don't need a fortune to do it. "The funds saving plan is a good solution for anyone who wants to build up their assets in the medium to long term by putting money aside on a regular basis," says Daniel Mewes, Head of Investment Solutions at PostFinance. But why funds, rather than any­thing else? A fund is a collection of different shares, bonds or real estate. Every financial investment is subject to fluctuations in value. If you invest in a pooled pot of different securities, the likelihood of you losing your savings is much lower – because usually, securities don't all lose value at the same time.
How do you find the right product?
In the investment world, there are thousands of funds. Trying to understand them and choosing the best product is time-consuming and difficult for private individuals. For this reason, PostFinance has worked with external partners to compile an initial selection and offers around 50 different funds – both in-house and from third parties. The range on offer from PostFinance covers a wide array of investment options, including funds arranged in categories such as sector, region, sustainability, index, real estate and commodity, and also bonds and convertibles. Investments can be tailored to individual requirements and wishes, depending on whether the investor is conservative in outlook or more willing to take risks, can afford to commit more money or less, or wishes to invest particularly sustainably. "If you opt for the funds saving plan, you should have an investment horizon of at least five years," says Daniel Mewes. Fund units at PostFinance are easy to purchase and manage using online banking. Anyone interested can also arrange a personal consultation at any time. A good way to prepare for this is to determine your personal investor profile using an online tool available on the PostFinance website.
All of these considerations may be lost on Marc's son Leon at the moment. But one day, he will be able to reap the fruits his father has sown. And Susanne is also pleased that her money will work harder in the future than it has in the past – and that she may well be able to afford a little more in her retirement than she previously thought.
Shares, derivatives, dividends
The PostFinance website is a useful source of information about investment, offering a great deal of articles and videos which provide clear and simple explanations. It helps beginners to learn how to avoid investment mistakes and describes the most important terms used on the financial trading floor. For more advanced investors, the platform offers specialist knowledge on various topics – for example, the core satellite strategy or small and mid caps. Anyone who would like to receive regular information about investments can subscribe to the newsletter. And if you feel up to it, there is a simple electronic option for purchasing whichever investment solution best suits your needs.