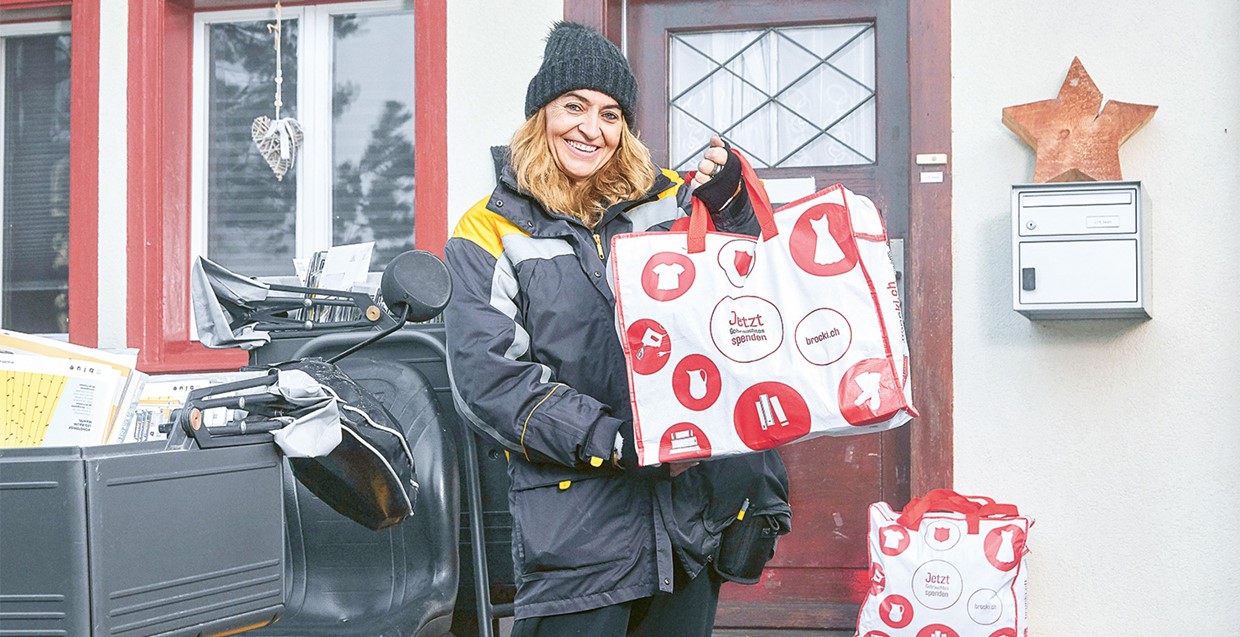 A mail carrier collects filled brocki bags while out on her usual round.
Services on the delivery round
Have used goods collected with ease
Swiss Post visits more than four million households every day on its rounds. Working with partner companies, it also takes on additional tasks. In a number of pilot projects in 2018, delivery staff collected goods donated by private customers to charitable causes such as the Swiss Salvation Army (brocki.ch).
Winter coats that don't fit anymore, children's ski helmets, unused crockery: in 2018, Swiss Post collected goods such as these directly from customers' doorsteps through pilot projects run in cooperation with brocki.ch, the Swiss Salvation Army. To begin with, several thousand private households in the catchment area of brocki branches in Berne and Zurich were given carrier bags, which they could then fill and deposit next to their private letter box. Swiss Post staff transported the bags back to a delivery point, where the goods were collected by brocki.ch.
Good response rates
"The logistics process combined with the delivery round proved to be successful, and the response rates were encouraging," says Geneviève Wüthrich, Head of Last Mile & Business Solutions. "Our mail carriers visit over four million households throughout Switzerland six times a week. It makes sense for them to handle appropriate tasks for third parties in addition to their core business – not only from an economic point of view, but also from an environmental perspective."
Swiss Post continuously works with partners to develop practical services that make everyday life easier for customers. One service that is already well established allows customers to simply put used Nespresso capsules in a plastic bag in their letter box and have them taken away by the mail carrier.