2020 strategy
We have to transform Swiss Post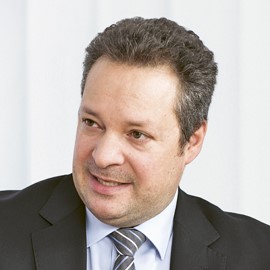 Michel Franzelli
Head of Strategy & Transformation
Why does Swiss Post need a transformation strategy?
New technologies are emerging every day, and new competitors are forcing their way onto the market. For customers, this means that new opportunities are opening up all the time. For example, it used to take several weeks for an order from Asia to reach my home. In the near future, it will take just two to four days. This has an impact on all Swiss Post units, and an intensive transformation is essential.
How does this benefit customers?
We support business customers in the process of digitization and give them the freedom to concentrate on their core business. Swiss Post Solutions, for instance, handles document solutions, both physical and digital. For private customers, Swiss Post offers new services that make their lives easier, such as mobile payment with TWINT.
How would you sum up the progress after one year?
Given how rapidly the markets are changing, it is clear that Swiss Post has to continue with the consistent implementation of its transformation strategy.
New competitors, often international, are forcing their way onto the market. Customers expect individual and flexible solutions – around the clock, both physical and digital. Changing letter volumes, competition in the parcel market and the low interest rate situation in the banking environment are having their effect on Swiss Post. Through its 2020 strategy, Swiss Post is transforming its business areas in each of these dynamic markets.
The 2020 transformation strategy is based on the corporate vision: Simple yet systematic – Swiss Post. But on the path to achieving this, the company faces challenges that are almost unique in its history.
The challenges
While the future is now virtually impossible to predict, it also holds many opportunities. The biggest challenges can be outlined in three categories:
New digital competitors
The Internet has led to a rise in the number of digital competitors with new business models in Swiss Post's markets, jeopardizing its core business. Swiss Post must therefore offer physically and digitally integrated services and access points, and continue to develop its expertise in the digital world (for example, in online payments and smart data).
Income and margins under pressure
The growth in e-commerce is intensifying the pressure on prices in the logistics market. At the same time, letter volumes are in decline and demand for over-the-counter services is falling. The financial markets are suffering from the low interest rate environment.
Conflict between regulatory and political demands
Regulatory requirements and political initiatives can change market conditions and influence Swiss Post's transformation. Swiss Post wants to achieve its transformation in dia­logue with regulators and the public.
Group goals
To implement the transformation, Swiss Post has set Group-wide goals for the period from 2017 to 2020:
Customer focus
Swiss Post is working to focus more closely on the customer, and its efforts are measured by three indicators:
–Customer satisfaction attains a score of at least 80 points (scale of 0 – 100)
– Customer experience is consistently positive
– More than 4,000 access points are provided

Market
Swiss Post wants to generate 10 percent of new sales by 2020. It is therefore looking to expand in its core business and in seven key growth and business development areas, which is not something that can be taken for granted at a time when new challenges are arising – such as digital companies increasingly opting to handle their own logistics. Swiss Post must therefore continue to develop its services and access points systematically – by combining physical and digital products and services, for instance.
Efficiency
Swiss Post wants to optimize its processes. As well as implementing measures to increase efficiency in the units, it is seeking to achieve savings of around 5 percent at Group level by 2020.
Employees
Employees are crucial to business success. Swiss Post relies on staff commitment and wants to maintain a very high employee commitment score of 80 points (scale of 0 – 100).
Corporate responsibility
Swiss Post is aiming to improve its CO2 efficiency by at least 25 percent by 2020 (base year 2010).
Finance
If Swiss Post can impress its customers, increase its competitive edge and optimize its internal processes, it can generate an operating result of 600 million francs in the 2017–2020 strategy period.
The strategic thrusts
To meet its goals, Swiss Post is pursuing four strategic thrusts: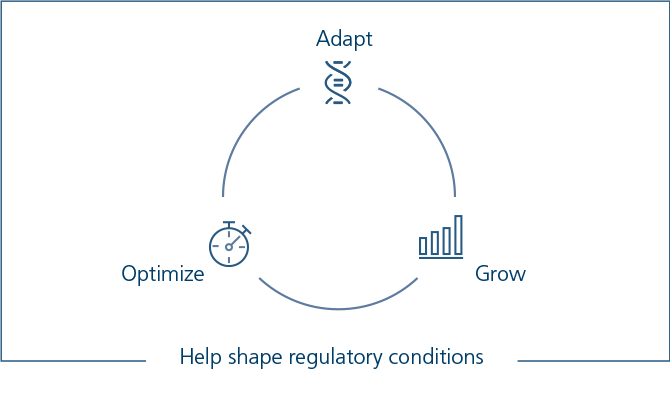 Adapt
Changing customer behaviour requires continuous strategic development of the core business, including its existing physical and digital services and access points.
Grow
New business areas open up opportunities for Swiss Post to inspire with innovative solutions in fields such as e-commerce and cross-channel communication.
Optimize
Interest rates, margins and volumes are coming under increasing pressure. Swiss Post is therefore increasing its cost efficiency – in procurement, for example, this is achieved through the functional management model and optimized ICT.
Help shape regulatory conditions
As a closely regulated company, Swiss Post finds itself trying to reconcile the conflicting demands of the market and policymakers. It wants to fulfil its universal service obligation in such a way that it reflects changing customer requirements. To do so, it requires entrepreneurial freedom. In dialogue with the regulators, Swiss Post exerts its influence on core topics in order to generate as much customer benefit as possible.
Our vision: Simple yet systematic – Swiss Post.
"We connect the physical and digital worlds, setting new standards with our products and integrated solutions. We make it easier for our customers to operate in today's complex environment, giving them greater scope to succeed."