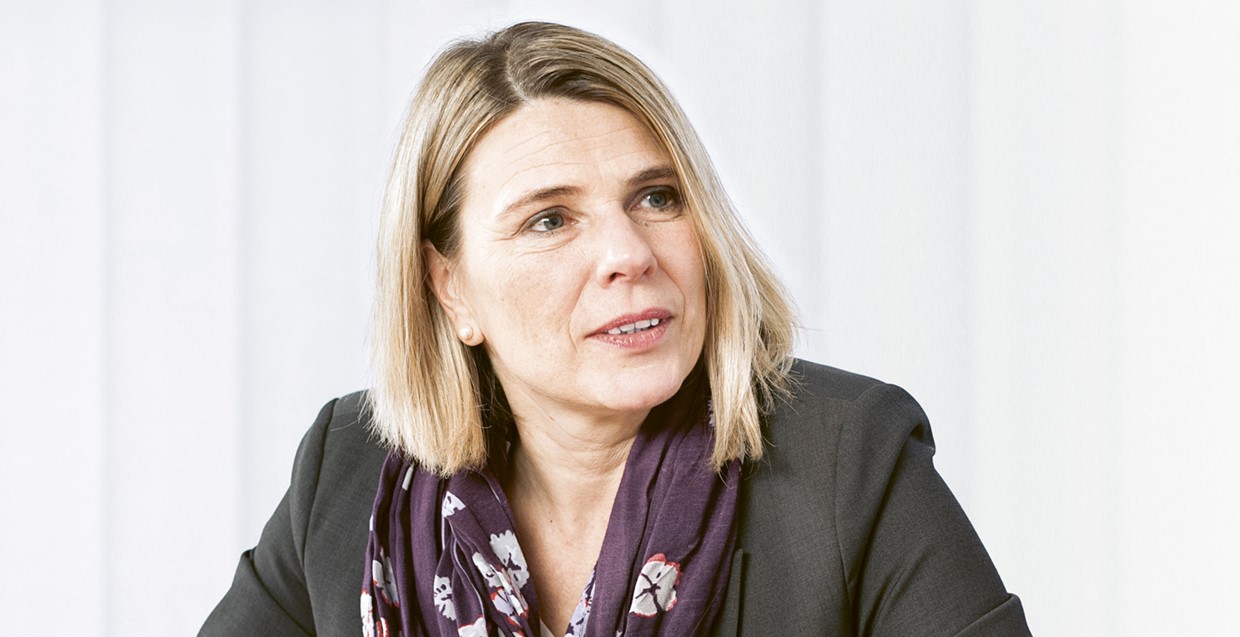 Interview
"
Looking out for employees
and supporting units"
Interview with
Valérie Schelker
Head of Human Resources and Member of Executive Management
Our HR strategy allows us to provide the best possible support for Swiss Post's transformation process.
We're getting our employees and HR into shape for the future.
Valérie Schelker has been Head of Human Resources at Swiss Post since April 2017. She works with her team to provide support to employees during the transformation process, and is restructuring Swiss Post's HR.
Ms Schelker, the performance promise at Swiss Post HR reads: "We are developing our human resources for the success of Swiss Post – we are Swiss Post." What does that mean in concrete terms?
Our performance promise is based on the Swiss Post vision. It means that we are getting our employees into shape for tackling future challenges, while also working to ensure the systematic development of HR staff. This will enable them to provide the best possible support to Swiss Post, and ICT in particular, during the transformation process.
You mentioned the major transformation process that Swiss Post is currently under­going. How do you see HR's role in that process?
HR acts as a strategic partner within the indi­vidual units and Executive Management. We want our services to be efficient and business-oriented across all dimensions of HR's core processes, from recruitment through to the moment an employee departs. We have defined five strategic thrusts designed to achieve this: we want to develop the orga­nization, facilitate employee performance, enhance Swiss Post's appeal as an employer, develop personnel expenses and employment conditions in line with the markets, and improve effectiveness and efficiency. The digitization and transformation processes are key drivers of the current HR strategy.
That sounds like a lot of change. What is your approach to dealing with employees' fears, and how do you support them in this transformation process?
I completely understand that changes can lead to certain insecurities and fears. That is exactly why we are supporting our employees so closely. For example, we have launched an internal job platform to make it easier for staff to search for an internal or external solution. We are also developing their digital skills – one of the ways we do this is by familiarizing them with new digital Swiss Post products.
How are you developing the working environment?
The central focus is on promoting the company's agility and capacity for innovation. However, measures designed to shape the working environment should also help to further improve cooperation and promote ways of achieving a healthy work-life balance. For example, we are currently piloting "third places" in Swiss Post buildings, where employees with notebook computers use alternative office workplaces away from their actual place of work.
The customer experience is central to Swiss Post's vision. What does this mean for HR?
In terms of employee recruitment, our goal is to ensure that prospective and actual candidates have a positive experience. The candidate experience – how applicants perceive their own recruitment process – is a critical success factor for Swiss Post. It is vital to our credibility as an attractive employer and has a direct impact on the number of applications and their quality. A positive customer experience or even a customer surprise are part of Swiss Post's DNA, including on the labour market.
Have you already initiated projects and measures for the transformation of HR?
There are numerous measures already being implemented. In the current strategy period, for example, we are establishing a new HR business model that combines business orientation with efficiency improvements. This model harnesses the digitization and standardization of our HR services, while also reinforcing a sense of managerial responsibility. At the same time, we are becoming more agile and market-oriented. We want to support our managers in their work by implementing simpler and more user-friendly processes.
What other new avenues are you exploring?
Swiss Post relies on good employees. And when you're looking for new staff, who knows best who's a good match for Swiss Post? Well, of course it's colleagues who know the job requirements well. That is why we rely on our employees as ambassadors. At the moment, we are also testing video interviews for applicants as part of the recruitment process, which is our way of optimizing it. This creates added value for both sides: applicants have an early opportunity to present themselves to Swiss Post during the initial selection phase, while Swiss Post has a better basis for decision-making and can respond more quickly.