Growth
Swiss Post is growing and evolving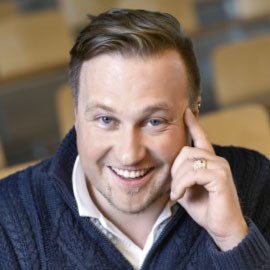 Edy Portmann
Professor of Cognitive Computer Science
You conduct research into artificial intelligence, or AI, at the University of Fribourg. Why is Swiss Post sponsoring your chair?
In the age of digitization, no company can get around AI. My research is about combining human intelligence with AI in order to make companies fit for the future. Swiss Post wants to help shape these developments and is therefore interested in my research.
How can AI support Swiss Post's growth?
AI has huge potential. For example, it enables repetitive activities to be automated in sectors such as online retail. Swiss Post already operates in this field and therefore has good growth opportunities.
Do Swiss Post staff and academics get along well?
Both sides benefit from the partner network and from direct contacts. The academics address the challenges facing Swiss Post, while Swiss Post's staff are happy to absorb the academic stimuli.
Targeted growth contributes to future success.
Our core markets are the basis for our growth.
Michel Franzelli
Head of Group Strategy & Transformation
How can we make our services even more personalized? What potential do new partnerships offer in fields such as mobility and logistics? How do we create added value using artificial intelligence? In our core business and with new and innovative solutions and services: this is how Swiss Post plans to grow.
To rise to the challenges it faces and achieve its set goals, Swiss Post wants to grow in its core business and beyond. There are seven growth and business development areas of particular importance in this respect:
Cross-channel communication
Swiss Post aims to increase the effectiveness of advertising for business customers with dialogue-oriented, personalized and cross-channel communication solutions. This will be achieved by opening up electronic communication channels and combining them with physical dialogue marketing. As an example: an e-mail is sent to a defined target group. Anyone who opens the e-mail and clicks on the advertising material but does not place an order also receives a physical mailing, increasing the likelihood of closing a sale.
Digital trust
Swiss Post offers digital services that can be trusted. One example is E-Post Office, the intelligent online letter box where customers can view and edit their physical mail digitally. Thanks to e-voting, voters can cast encrypted electronic votes securely in elections and referendums.
Business process outsourcing (­document solutions)
Swiss Post Solutions plans to combine existing services such as scanning, data entry and data extraction with new technologies such as artificial intelligence or robotics, and expand its services accordingly. To do so, it will make use of intelligent computers in document processing that can sort incoming mail for companies, and in some cases even respond to it themselves.
E-commerce
In this area, Swiss Post wants to grow with the market in cross-border logistics and have a share in the large flows of goods and data. Trade with China in particular is increasing, and Swiss Post is therefore strengthening its cooperation with partners there.
Digital banking
PostFinance intends to stick to the digital course it has adopted with mobile payment solutions, complementing them with additional services such as digital investment advice. The aim is to develop mobile devices as the main interface and eliminate all media disruptions.
Mobility
PostBus is working to offer intelligent and digital ways of combining and interlinking the various forms of mobility across all modes of transport for its customers in Switzerland. The aim is to establish a mobility platform linking all services offered in the transport network, including taxis, rental bikes such as PubliBike, QR codes with real-time timetables and local information at stops.
Sales & Solutions
This newly created organizational unit is dedicated exclusively to major business customers. It develops tailor-made postal solutions.