The drone in action high above the city of Lugano.
Special items
Drone transports laboratory samples
Drones will complement traditional parcel delivery where practical, but they will not replace it.
Dieter Bambauer
Head of PostLogistics and Member of Executive Management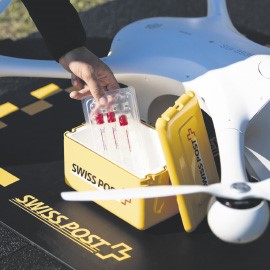 The laboratory samples are packaged in a safety box.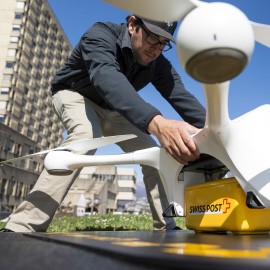 A member of staff prepares the drone for its flight.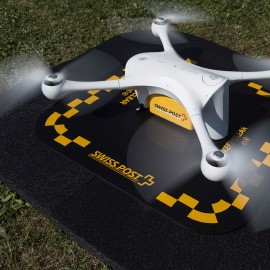 The drone landing in front of the Ospedale Civico in Lugano.
Swiss Post is testing the use of drones in the healthcare sector. If successful, they will be used in the future to transport laboratory samples or medicines between hospitals. Through these tests, Swiss Post is taking on a pioneering role in drone logistics worldwide.
Some blood samples have just been taken, and they now need to get to the lab urgently. A short while later, the samples are flown safely to their destination in a Swiss Post drone. This may sound like a vision of the future, but it will soon be a reality. In Lugano, more than 100 test flights between two locations operated by the EOC hospital group have been carried out successfully to date. Over the course of 2018, drone flights between the two hospitals will become part of everyday life. At the same time, Swiss Post is expanding its pilot project to other Swiss cities.
The aim of the drones is to ensure that transport between hospitals becomes faster and more efficient, for the well-being of patients. The Federal Office of Civil Aviation (FOCA) has been involved in the project from the outset and has granted Swiss Post approval for the flights.
Technical specifications
Aircraft type: Quadrocopter
Manufacturer: Matternet
Diameter incl. rotor blades: 128 cm
Maximum load: 2 kg
Maximum range: 20 km
Average speed: 20 m/s
Cruising altitude: Approx. 120 m above ground