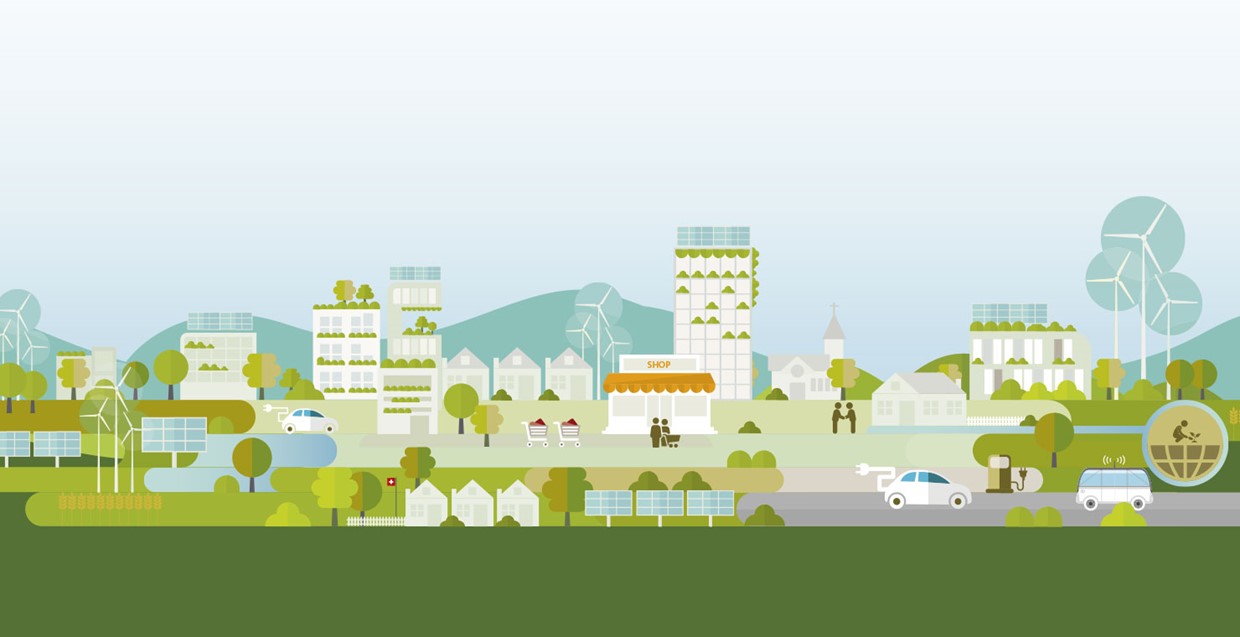 2017–2020 corporate responsibility strategy
We're acting now for tomorrow
Marco Imboden
Head of Communication and Sustainability Technical Committee, Member  of Extended Executive Management
Why is Swiss Post committed to climate protection?
We take our corporate responsibility in this area seriously: for the environment, for society and for long-term business success. With this in mind, we must reduce our CO2 emissions even further, with the goal of reaching zero by 2050. Our Group goal with respect to CO2 efficiency is therefore geared to the long term and in line with stabilizing global warming at well below 2°C.
What are the biggest challenges?
One ongoing challenge is the procurement of vehicles with alternative drives that meet our operational requirements.
Why is Swiss Post only now using the solar electricity it generates?
Until now, we have been feeding our solar electricity into the grid. With the new Energy Act, it makes sense to use the electricity we produce ourselves. We can use it for our scooter fleet, for example, which is already fully electrified.
Swiss Post continues to focus on climate protection and is expanding its social commitment. The 2017–2020 corporate responsibility strategy focuses on four areas of action: climate and energy, circular economy, responsible procurement and corporate citizenship.
Climate and energy
Our ambition
Swiss Post's climate goal is in line with the objective of stabilizing global warming to well below 2 degrees Celsius by 2100.

Goals and strategic thrusts
– Improve CO2 efficiency by at least 25 percent by 2020 (base year 2010)
– Promote renewable energy and increase its share
– Use the best available technologies and expand climate-friendly products

Examples
– Electricity is 100 percent renewable and from Switzerland
– The electricity and environmental added value from 12 new photovoltaic systems is used by Swiss Post itself
– In its own buildings in Switzerland, Swiss Post does not use fossil fuels
– 45 percent of the efficient vehicle fleet uses alternative drive systems
– For addressed domestic letters and PromoPost, Swiss Post assumes the "pro clima" surcharges for offsetting CO2 emissions and also invests them in a Swiss Post climate protection project

Circular economy
Our ambition
With our products and skills, we support a resource-friendly and circular economy.

Goals and strategic thrusts
– Tap into new logistics potential and create additional social benefits
– Support circular product use with innovative logistics services

Examples
– Swiss Post uses old batteries from electric scooters as energy storage units in buildings with solar systems
– Swiss Post collects used Nespresso coffee capsules from customers' homes for recycling
– Swiss Post collects and recycles old Swiss Post clothing in cooperation with the Swiss Red Cross
– Thanks to its many access points, including the home delivery service, items rented from the Sharely platform can be sent with Swiss Post

Procurement
Our ambition
In terms of sustainability, we want to beco­me one of the leading procurement organizations in the postal industry.

Goals and strategic thrusts
– Integrate sustainability criteria into service tenders, create a risk evaluation for strategic suppliers
– Integrate the circular economy and carbon-neutral approach consistently into procurement practice

Examples
– Suppliers undergo an independent sustainability assessment to provide transparency and create the basis for a collaborative path to a more sustainable supply chain
– Swiss Post procures recyclable products (e.g. furniture)
– All suppliers must sign the Code of Ethics and Social Responsibility, which requires compliance with social stan­dards and environmental principles
– Swiss Post integrates sustainable criteria into its procurement processes

Corporate citizenship
Our ambition
We are committed to the common good and make corporate resources available for charitable, social or environmental purposes.

Goals and strategic thrusts
– Contribute to solving social or environmental challenges and create added value for society
– Encourage employees to publicize and support Swiss Post's commitment to corporate citizenship

Examples
– 2 × Christmas is a cooperative, charitable fundraising campaign for the needy at home and abroad. Swiss Post transports the parcels free of charge to the SRC logistics center, where they are sorted by Swiss Post staff and volunteers
– Promotion of culture through Swiss Post's own art collection. Swiss Post supports young Swiss artists
– As the main partner of the Swiss Hiking Trail Federation, Swiss Post facilitates volunteer assignments for employees

Corporate responsibility charter
Our self-perception
Swiss Post is aware of its special corporate responsibility as one of the largest employers and the market leader in postal services, payment transactions and road-based public passenger transport in Switzerland.
We regard the concept of corporate responsibility (CR) as a fundamental ethical attitude based on our core values: "reliable", "value-enhancing" and "sustainable". Sustainability means ensuring an appropriate balance between economic success, environmental action and social responsibility, while taking account of the needs of current and future generations.