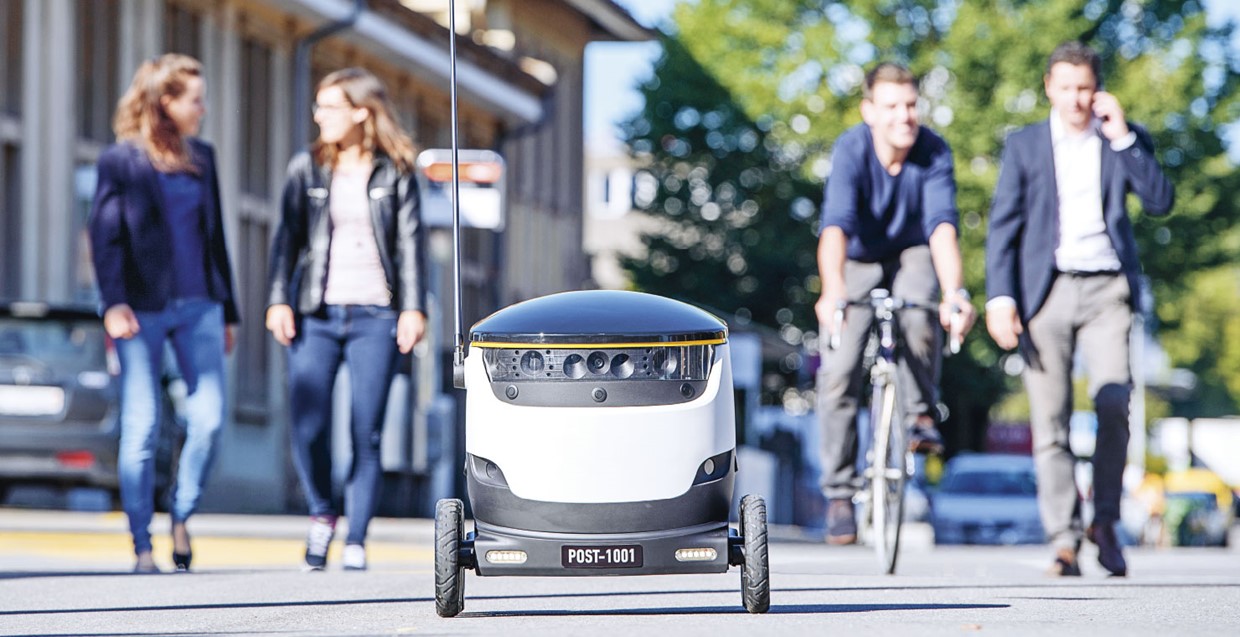 Delivery robots
A robot takes a picnic to the park
Swiss Post is one of the first companies in Europe to test self-driving delivery robots. Operating autonomously, they bring goods from online shops to wherever they are required.
Have a picnic delivered to a park bench by the lake, running shoes delivered to a hotel or a clean shirt delivered directly to your office: in 2017, Swiss Post and its partner Jelmoli tested the use of delivery robots for goods delivery in the center of Zurich. Following a successful result, tests will continue with additional partners at different locations. The procedure remains the same: when completing an electronic purchase, customers click the relevant delivery option, enter a delivery location of their choice and define a delivery time slot that suits them. Shortly before the robot arrives, they receive a link via SMS, which is needed to open the robot's delivery compartment.
Technology for the last mile
Delivery robots are ideal for deliveries over the last mile: for consignments that need to be delivered flexibly, quickly and inexpensively, such as food deliveries, medical products or special items required on the same day. Thanks to further tests, Swiss Post has gathered experience in integrating the technology into existing supply chains.
The driving force behind this project is the Development & Innovation function unit, which supports the other units with expert knowledge and contacts and helps to develop and implement new digital business models.
early Label
Swiss Post wants to test new products and services with its customers as early as possible. During the test phase prior to their official launch, these products are identified with the "early Label".