Last mile
When the mail carrier collects old clothes
Swiss Post secures jobs with services over the last mile.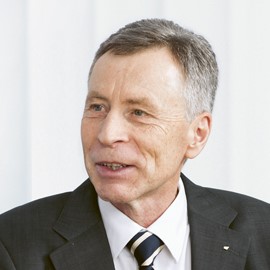 Ulrich Hurni
Head of PostMail and Member of Executive Management
Is Swiss Post entering new territory with these supplementary services?
We've been providing logistics solutions tailored to individual customers for a long time. Now we need to find multipliable solutions. Letter volumes are declining steadily, so we are trying to generate additional income wherever possible and necessary – with the further aim of safeguarding jobs.
Why are mail carriers particularly well-suited to performing tasks over the "last mile"?
For many customers, our delivery staff are figures of trust. They enable PostMail to reach 4.1 million households every day. However, new supplementary services must be appropriate.
How is the job profile changing?
Delivery of letters and parcels – the current core business – will continue to dominate in ten years' time. Our mail carriers will do much more than that in future, however: they will collect and deliver things, gather information and provide a wide variety of postal services.
Swiss Post visits some 4.1 million Swiss households every day, so it makes sense for delivery staff to take care of additional tasks on behalf of customers: reading electricity meters, delivering local products, disposing of PET bottles and collecting books for second-hand shops or bags of used clothes.
Yvonne fills the red and white TEXAID collection bag with old children's clothes and takes it down to her private letter box. The mail carrier will take it with him later on his daily round. TEXAID collects 40,000 tonnes of used textiles annually – in containers and clothes bags. After a successful pilot project in 2016, the company decided to entrust Swiss Post with the task of collecting bags from people's homes.
Generating new income
For more than ten years, letter volumes have been falling steadily. In 2016, the decline in volumes of addressed consignments was 3.8 percent. For this reason, Swiss Post is developing new services over the "last mile" – the last stage of the letter delivery process, which leads directly to households. Swiss Post serves all 4.1 million households in Switzerland six times a week. Its delivery staff are therefore a natural choice for taking on additional tasks such as those described above. Swiss Post is pursuing two goals with this strategy: looking to generate new income while at the same time continuing to offer delivery staff good jobs in the future.
Food subscriptions from the farm
These newly created services are close to Swiss Post's core business, as shown by another example: delivery of seasonal products by mail carriers. This allows innovative farmers with farm shops to offer their customers in the region food subscriptions with attractive delivery terms. In autumn 2017, 31 farmers took advantage of this service, and the list is growing all the time.
Environmentally sound
The new services also make sense from an environmental perspective, because there are no additional trips required for delivery staff to perform tasks such as reading household electricity meters. This collaboration with the power companies in the Canton of Schaffhausen has been running successfully since January 2017.
Additional services on trial
Swiss Post is running pilot projects to test additional services over the last mile: collecting aluminium, batteries, electronic waste, beverage cartons, PET bottles and other recyclable products for start-up Mr. Green in Zurich, while in the vicinity of Wetzikon and Wila, people can give books, CDs or shoes to their mail carrier, who then takes the goods to a Salvation Army second-hand shop.