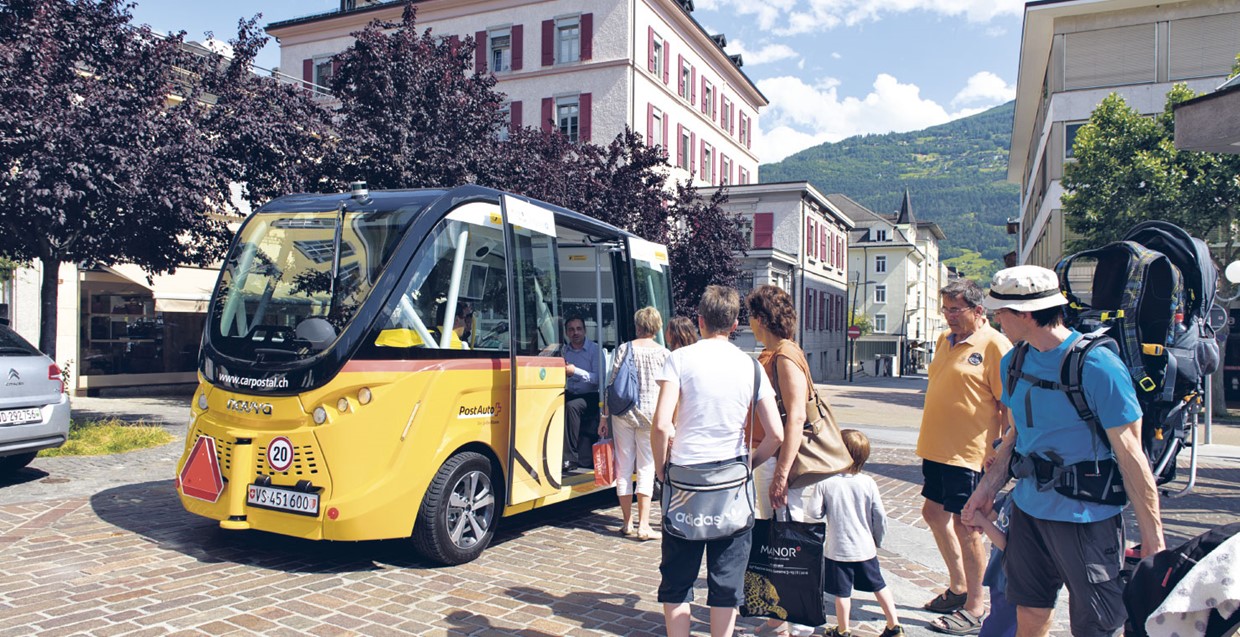 The self-driving Postbus is particularly suitable for car-free zones, remote regions or company premises.
SmartShuttle
High acceptance of self-driving vehicles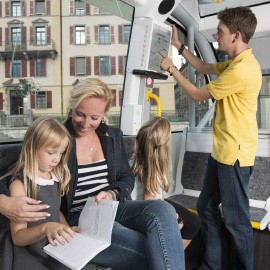 7,000
trips around Sion have been completed by the SmartShuttles since their introduction in June 2016.
8,200
kilometres have been covered by the SmartShuttles in Sion.
32,000
people from Switzerland and abroad have used the SmartShuttles in Sion.
People in Switzerland have confidence in self-driving bus technology. Many sceptics also set aside their concerns once they have travelled on a SmartShuttle themselves. This is the conclusion of a study. Testing in Sion will be extended until the end of 2018.
Fredy boards a self-driving Postbus for the first time. He's full of curiosity – but, at the same time, also a little edgy and tense. But with every metre he travels on the driverless SmartShuttle in Sion, the tension is reduced. His confidence in the PostBus sensors, camera lenses and software grows from second to second.
Many people feel the same way as Fredy: "Once you've travelled on a self-driving Postbus, you have little or no concern about safety." This is the conclusion of the first Swiss acceptance study on the subject of automated driving, in which market research company GIM Suisse and the University of Applied Sciences of Western Switzerland in Valais surveyed 400 people. The study was conducted on behalf of Swiss Post.
Greater acceptance than in China and the United States
The study interviewed shuttle passengers, cyclists, car drivers, pedestrians and shop owners. More than half expressed no or very minor concerns about self-driving buses, making the level of acceptance in Switzerland greater than in China (where 87 percent of people have major concerns), the United States (78 percent) or Japan (75 percent).
A world premiere in Sion
PostBus is working to gather more experience with autonomous buses, and has now started operation of a closed test area in Berne. Operation on public roads in Sion has also been extended until the end of 2018. Since the start of testing in June 2016, the two SmartShuttles in the Valais capital have transported 60,000 passengers over the 1.5-kilometre route. The second test phase is now running on a route that is twice as long and leads to the train station. This is a global first – self-driving buses in a public transport system serving a train station.