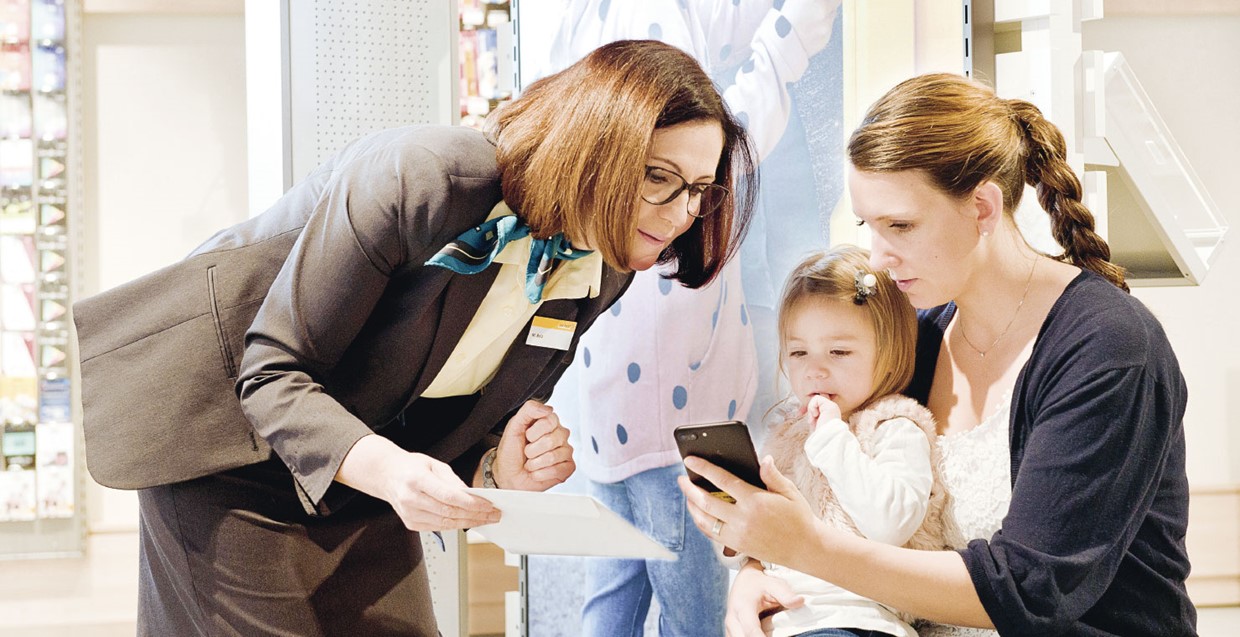 Transformation
Customer experience is of utmost importance
We are actively shaping Swiss Post's future.
Urs Schwaller
Chairman of the Board of Directors
Whether in postal or financial transactions, on the road with public transport or in highly complex business processes: Swiss Post develops user-friendly access points, products and services for private individuals and business customers.
Customer experience
"My Swiss Post does everything it can to make my life easier – whenever, wherever and however it suits me." This is the message that customers should take away after any interaction with Swiss Post. The company embeds this vision into its corporate culture, and it's units have defined concrete measures:
–Offer physically and digitally integrated points of contact in the postal network: at branches, for example, there are QR codes at the information points that allow customers to use the Post-App to find out where the nearest open access point is
–Enhance functions: as of November 2017, registered consignments can also be franked and posted at My Post 24 terminals
–Create more convenience for existing products: business customer letter mail services are being simplified and structured in modules
–Turn existing services into comprehensive solutions: PostBus is working on a mobility platform which allows customers to manage their journey from start to finish, including car sharing and bicycle hire
Digitization
Swiss Post makes allowance for modern lifestyles by focusing its business models on mobility and our 24-hour society.
Internally, Swiss Post is developing new skills through schemes such as partnering. It is networking more closely with other companies and entering into partnerships. To enable faster and better testing of new digital business models, it is procuring new infrastructure, thereby opening up opportunities for the testing of prototypes that will later benefit customers. With TWINT, for example, recipient customers can make cashless payments for shipment expenses and charges.
Swiss Post Solutions harnesses new technolo­gies such as artificial intelligence to digitize documents, extract relevant information from images and process it automatically.
Swiss Post aims to use existing customer data where appropriate in order to offer customers personalized services – wherever they want them.
Postal network
Swiss Post will increase its number of access points by 2020. By developing additional formats, such as acceptance and collection points and My Post 24 terminals, Swiss Post will increase the number of access points to more than 4,200 by 2020, of which 800 to 900 will be self-operated branches.
The access points will be geared even more consistently towards customers' daily lives, with services such as acceptance and collection points at major distributors or in industrial districts. PostalNetwork wants to be exactly where its customers are: at home, on the go and in the digital world. The access points will increasingly be networked with each other and provide the customer with a simple, consistent physical-digital experience. Swiss Post is testing a new model for its self-operated branches, with a perceptibly stronger focus on Swiss Post's own products, advice on digital and physical services, and integrated self-service solutions.
Promoting new skills
Swiss Post promotes employees' skills through a comprehensive range of training courses and tools, with a particular focus on digital skills. Swiss Post offers:
–1,600 advanced training courses (including IT courses, project management courses and language courses in Switzerland and abroad). The material is taught conventionally (presence setting) and through digital learning media
–Career counselling and professional situation assessment
–Temporary job change within the company
–Practical workshops for managers and employees for the discussion of new values and working principles
–Internal talent management for future managers
Swiss Post promotes innovation through the use of new methods and processes such as customer experience management or SCRUM, as well as agile approaches, all supported by Work Smart initiatives such as home office and third workplace.
Our ambition
"My Swiss Post does everything it can to make my life easier – whenever, wherever and however it suits me."