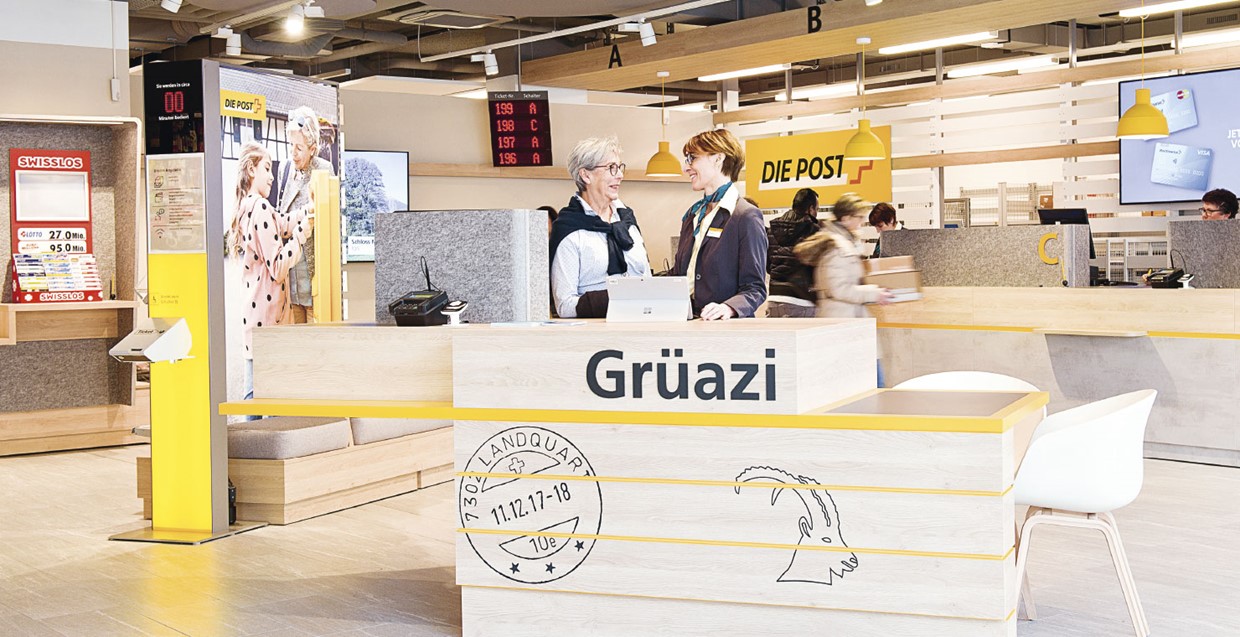 At the Landquart branch, customers can find both their familiar physical services and a wide range of digital products, all combined under one roof.
New branch concept
The gateway to our new "yellow world"
In the new branch, the focus is on Swiss Post's own services.
Patrick Schweizer
Head of Interlaken Branch District
Customers are welcomed personally by staff. Open counters create a sense of proximity, and various themed areas turn each visit into an experience. In Interlaken and Landquart, Swiss Post is testing what its branches might look like in the future.
Since August 2017, visitors have been able to experience the new yellow world in Interlaken, and since December, the new concept has also been up and running in Landquart. The stylish listed post office building dates from the 1950s, combines old and new and is a perfect fit for the new branch concept, which connects all Swiss Post services, both physical and digital.
At the cutting edge
Modern and bright, the branch has something of the aura of a charming living room. In the open counter area, a man takes care of his inpayments. Clearly proud of herself, an elderly woman hands in her first ever parcel all by herself at the My Post 24 terminal in the self-service area. At the advice counter, a father is shown how to manage postal transactions via mobile app or online while his children play with a wooden toy post office.
The initial customer feedback at the two pilot locations in Interlaken and Landquart was positive. "Our customers feel that Swiss Post is at the cutting edge of social and technological development," says Patrick Schweizer, Head of the Interlaken Branch District. That's why Swiss Post is investing in modern branches in the coming years. In 2018, further locations will be redesigned to reflect the new branch concept.