Growth and development area: e-commerce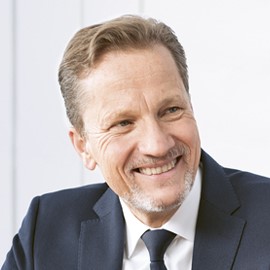 Dieter Bambauer
Head of PostLogistics and Member of Executive Management
Online retail in Switzerland is growing strongly. What does this mean for Swiss Post?
Let's not forget that Swiss products are also very attractive for customers abroad. There is still great potential for online retailers in this area. Swiss Post provides retailers with support for the digital transformation, simple customs clearance and fast delivery of their goods.
20 percent of Swiss e-commerce sales go abroad. What are your views on this trend?
Retailers abroad are increasingly realizing that customs is not a hurdle if they have the support of a professional partner like Swiss Post. At the same time, Swiss customers are showing increasing confidence in the payment processing, delivery and returns processes available from foreign providers.
Are Swiss providers falling by the wayside?
First and foremost, it means an increase in parcel volumes. To ensure that we can continue to process parcels quickly and reliably, we need to invest. We will build three additional regional parcel centers by the end of 2020, in Graubünden, Ticino and Valais.
Swiss Post guides companies through the worldwide warehouse
The onward march of the smartphone has turned the world into one big online shop. Online customers are mobile, ordering wherever and whenever it suits them. They want a seamless, simple shopping experience and the products in their hands as quickly as possible. Swiss Post is transforming itself into a service provider that supports retailers in the digital world.
Five years ago, Sandra rarely ordered anything online. Nowadays, she orders all sorts of everyday and leisure products several times a week in an online shop – increasingly on her smartphone. She used to be happy if the goods arrived within a week. Now, she wants to have the products in her hands as quickly as possible, and also decide for herself where and how she receives them. Sandra is not unique: the 24-hour society is able to place orders anytime and anywhere, and that's what it wants.
Change identified early
Online retail has changed rapidly in recent years, and Swiss Post responded early to the change, introducing evening, Saturday, Sunday and same-day delivery, installing more than 90 My Post 24 terminals, creating pick@home and providing the ability to manage parcels independently with "My consignments".
High-street retailers are experiencing declining customer frequency, so they have to face up to digitization. Swiss Post has developed a full range of services for these retailers, advising customers, taking care of the design and development of their online shop and handling the ordering process, payment, warehousing, delivery and returns management. This means that retailers can concentrate on their core business.
Development continues apace
In online retail, new technologies are currently changing requirements fundamentally. To give an example: Sandra wants to buy a sofa. Thanks to augmented reality, she can project it into her flat before she buys it. This enhances the customer experience. Delivery options are also becoming increasingly flexible and faster through the use of innovations such as drones and delivery robots. In addition, smartphones can be used for navigation inside buildings. Instead of using satellites, location is established via WiFi. Customers do an online search and then let their phone lead them directly to what they are looking for in the store. The worlds of online and offline shopping are merging.
Swiss Post establishes a competence center
As a partner of retailers, Swiss Post is in the throes of the transformation from a logistics provider to a service provider. This requires a new mindset, but also an approach to providing service that is increasingly geared to the needs of senders and recipients. In the digital transformation process, Swiss Post wants to provide professional advice and support to retailers right from the start, from new entrants to major companies. To enable this, it established the Competence Center Digital Commerce in autumn 2017. This competence center develops individual solutions for retailers according to their level of digital maturity. Its expertise ranges from current and future business models to the latest technological developments.