Document solutions for Generali
Agile and efficient input manage­ment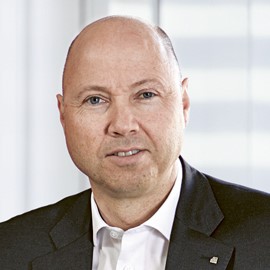 Andreas Krümmel
CEO of the Generali Group Switzerland
How is Generali modernizing its business model?
Generali Switzerland has developed a new strategy with the focus on innovation and digitization, and is investing around 100 million francs over the next four years in the modernization of its business model. We are working flat out to modernize our IT and continue to develop digitization. We want to exploit their potential in the future for our customers' benefit.
How did customers benefit from the strategic realignment?
We want to be simpler, smarter and faster for our customers. We want interaction with us across all points of contact to be as easy and direct as possible. We believe that digitization plays a decisive role in this.
How does Generali benefit from its cooperation with SPS?
We benefit from the high level of innovation potential that SPS contributes as the Swiss market leader in information logistics. Our cooperation allows us to optimize manual tasks and response times to customer requests. SPS also supports us in our digital transformation.
The Generali Switzerland insurance group outsources all of its mailroom and document digitization work to the innovative postal service providers at Swiss Post Solutions (SPS): for the long-term assurance of logistics services.
Every day, thousands of documents are processed in Nyon and Adliswil, at the headquarters of Generali Switzerland. The insurance provider is contacted by its almost one million customers through e-mails, letters or faxes. How are these different documents processed? "Media disruptions are not uncommon in the insurance industry and still represent a great deal of potential for optimization," says Urs Forster, Sales & Marketing Director at Swiss Post Solutions. "If you want to save time and money, you need to continually review your own logistics and digitization processes – and be open to new ideas."
As is the case at Generali Switzerland: to improve its efficiency, the insurance company has already successfully converted the entire document logistics process for its non-life insurance business from late scanning to early scanning. All incoming mail is scanned after sorting and then processed electronically – and not only for archiving purposes after processing. Both the physical and digital mail were therefore integrated into the work processes in the mailroom. In the life insurance business, the transition from late to early scanning has begun. Now, the insurance company is going a step further. As of 1 September 2017, it has outsourced specific activities relating to postal services and document digitization to SPS: all processing of incoming mail, scanning, classification and control of the physical archive, data entry, returns processing and changes of address.
SPS as a new employer
Because SPS is continuing activities at Generali Switzerland's two offices, the jobs there are secure. For employees, only the employer has changed. "We are pleased to have been given the opportunity to support Generali in their digital transformation in the long term. This step enables Generali to achieve significantly shorter processing times for its customers," says Urs Forster.
Generali
Founded in Italy in 1831, Generali (Switzerland) is one of the world's leading insurance companies, with a presence in more than 60 countries. Generali (Switzerland) Holding Ltd operates its business through its subsidiaries from two principal offices: Adliswil and Nyon. It has around 2,000 employees serving almost one million customers.