PostFinance result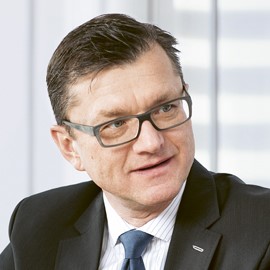 Hansruedi Köng
Chief Executive Officer of PostFinance
How far has the construction work on the "digital powerhouse" progressed?
For the past 18 months or so, we have drawn up the blueprints, so to speak. The first milestone was our conversion of PostFinance to a new organization in the summer of 2017.
What are the next stages of construction?
For a house to be able to weather stormy times, it needs a strong foundation. The foundation of the digital powerhouse is the new core banking system, which we will introduce at Easter 2018. We will then start with the actual construction of the house, and we want to become Switzerland's leading digital bank by the end of 2020.
Why is the new core banking system so crucial?
Our current IT landscape has grown over many years and is therefore very heterogeneous and cumbersome. To become faster and more agile, we need to optimize our IT architecture and modernize our core banking system. Only then will we be technically ready for digitization and the digital powerhouse.
In the financial year 2017, PostFinance recorded an operating profit of 549 million francs, representing an increase of 7 million francs year-on-year. This slightly improved result is due firstly to capital gains from the sale of two equity portfolios. Secondly, reversals of impairment on financial assets also had a positive impact on the result, following impairment losses incurred in the previous year. Operating income was down 67 million francs to 2,088 million francs. This was principally due to lower interest income, which declined by 117 million francs. PostFinance continues to face a difficult market environment in the interest business, due in particular to the lending prohibition. The ongoing low interest situation further eroded interest margins. To remain profitable in the long term, PostFinance is tapping into new sources of revenue, thereby reducing its dependence on the interest differential business. It is also placing even greater strategic focus on digitization and is transforming from a traditional financial service provider into a digital powerhouse, with the aim of becoming Switzerland's leading digital bank by 2020.